Meet Franziska
Franziska Poschl provides unique support for families in the Auckland/Northland regions.
Beginning her career as a volunteer phone counsellor ten years ago, before training as a group facilitator and completing a Bachelor of Health Science in Counselling, it's fair to say Franziska was destined to help others. Alongside her work as a Family Support Coordinator she also works part-time as a counsellor for adolescents and young adults.
Bright, bubbly and incredibly compassionate, Franziska leaves an incredible impact on every family she supports. Her clear passion for helping children and their families makes her an inspiring member of the Family Support team.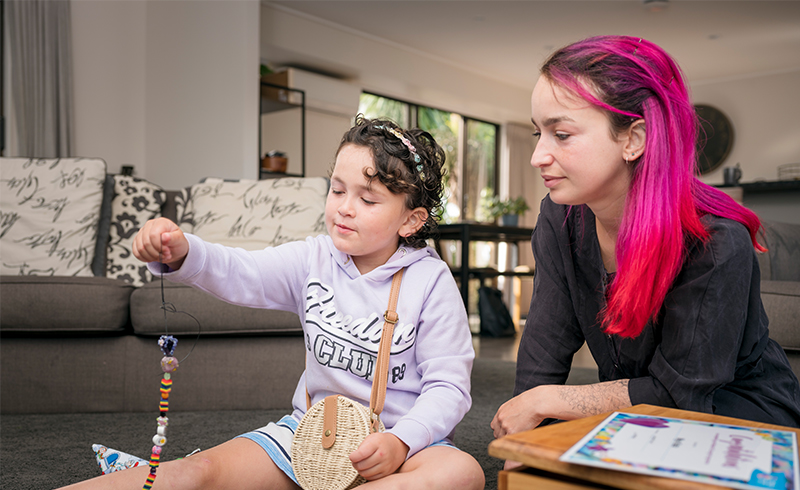 What made you want to be a Family Support Coordinator at Child Cancer Foundation?
As a counsellor, I often only work with the child or young person themselves, which can be really helpful, but is only one part of the picture. So when I came across this amazing opportunity to organise support and be alongside the whole whānau, it felt like finding a missing piece! Having the privilege of being alongside families as they walk a journey that is often difficult and uncertain feels like such an honour. I also loved hearing about the service and the unique way each family's needs are explored – it was great to hear that support is co-created with the family, instead of being a one-size-fits-all approach.
What does a typical week look like in your job?
One of the really special parts of this role is that there isn't really a typical week. Most of my time is spent connecting with families in their homes, and each family is so different so the conversations and the follow-up are so unique too. We also have the opportunity to offer support within the hospital environment, in individual and group situations. Depending on where a family is on their journey will often determine the kinds of interactions and support they are needing, so it is important to be flexible.
What fuels your passion for your work?
I am super passionate about supporting families as they face challenges and successes on this journey, and that is mostly fuelled by the amazing strength I see in families. I also love knowing that as a team, and as an organisation, we are making a difference to children and their whānau. Having a great team of supportive colleagues also helps maintain passion for the role as we all support each other.
What is the most challenging part of your job?
For me, one of the most challenging parts of the role is switching off when I get home! I find that I have the unique honour of stepping into families' worlds, even if only briefly, and I experience so much care and compassion for them that I have to make a conscious effort to disconnect from that. It really is a job that has made my heart grow and stretch in ways I had never imagined, and at the same time it is important that I give myself a break.
What makes you the right person to support the children and families you work with?
I truly feel so privileged that whānau trust me and open up about their lives and their unique journey with childhood cancer. I think my desire to get to know the child and their family beyond their diagnosis and build a robust, empathetic and trusting relationship where they feel heard and understood helps whānau feel comfortable and allows us to work together to organise the best available support for them. I also believe that while I might know a theory or have an idea about something that might be helpful, the family are the experts on their experience and their needs, and I always aim to respect that and truly listen to what they are saying without making my own judgements. I also think not being afraid to get on the floor to play with a child and taking the time to explain the Beads of Courage® programme helps to build trust and can really brighten a child's day.
How do you maintain a good work/life balance?
This is super important for my wellbeing and something I have spent a lot of time trying to work out, and I actually feel like I have got it pretty well sorted! I am fortunate to have a really full schedule outside of work and spend a lot of my spare time with family and friends. My partner and I just finished building our own tiny house on wheels as a complete DIY project, so that kept me really occupied. I am also passionate about permaculture, so I spend a lot of my time gardening and reading about compost and fungal activity in soil (just as unglamorous as it sounds, but really interesting!). I have two energetic dogs (a golden retriever and a Samoyed) and they are great at reminding me to be present and get out into the fresh air. I also love to exercise and enjoy salsa dancing, aerial yoga, running, and boxing. But in amongst all the activity it is really important to take time to decompress, so I make sure I take time to practice mindfulness most days to check in with myself.
What do you think families appreciate most about what you do?
Interestingly it is often not one thing that families appreciate. Just like any relationship, it can be the little things done consistently that make the most difference, whether that is a phone call to check in after a significant event, or taking the time to really listen, without any hurry, over a cup of coffee. Whānau most often express appreciation for us listening to their concerns and coming up with a plan together, facilitating the Beads of Courage® programme and visiting them in their own home where they can really relax. Ultimately, families seem to appreciate having someone who understands some of what they are going through and who really cares about their wellbeing.