The 23rd Annual Cardinal Logistics Golf Day for Child Cancer Foundation was a huge success.
It was held on a beautiful day at Whitford Park Golf Club just before we went back into Red across the country!
The fundraiser involved some healthy competition through an 18-hole golf tournament, which was supported by various Cardinal customers through hole sponsorship and prize donation. It was a fantastic day out on the course, with everyone getting into the spirit to raise money to support children with cancer and their whānau. A big thank you to everyone who helped make the day possible, including volunteers, sponsors, those who donated prizes and auction items and everyone who joined in on the fun.
This year's event was a record-breaker, raising an incredible $61,800 – the largest total in its 23 years! This marked an extraordinary milestone for Cardinal Logistics, bringing their fundraising total to a massive $1 million since they came on board as a business partner. Congratulations, Cardinal Logistics, for this amazing milestone, and thank you for your ongoing dedication to supporting tamariki with cancer and their families.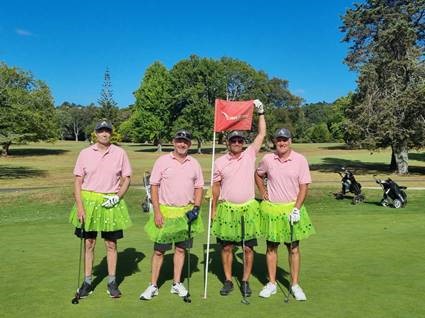 Five minutes with Tony Gorton – Managing Director at Cardinal Logistics
What does the partnership between Cardinal Logistics and Child Cancer Foundation mean to you?
It means everything! We have four kids and we are blessed that we haven't had to go through the rigmaroles of needing to be supported by Child Cancer Foundation. That's a big driver for us – doing our bit to help the current generation and next generation of families going through childhood cancer, particularly those without the means to support themselves.
What is your favourite memory of supporting Child Cancer Foundation?
Every golf day is a favourite, but this year it was particularly special hitting the million dollar mark. Every year it stuns me that we can get a group of 120 people together and raise $60,000 while having a great day and enjoying a few drinks. One of my favourite things is that we're able to support specific projects for Child Cancer Foundation – this year the funds will go towards deliveries of frozen food and the end-of-year Christmas celebrations.
What would you like to see from the partnership in the future?
We've hit a real sweet spot with our golf days where we are able to raise $50-60k while still keeping it affordable for everyone who takes part. A lot of the players are just your average Joe – our warehouse workers and lower management, not the usual wealthy golfer – so by not charging too much we are able to keep it as a fun and accessible day for everyone to enjoy and still make a great contribution to Child Cancer Foundation.
We could have easily cancelled the event this year with all the challenges from COVID-19, but we just kept pushing the date so we could make sure it would go ahead. It's an unfair world we live in, so I didn't want to make things harder for the families who are already going through such a tough time – that's what it's all about for us.
Become a partner
If your business would like to make a real difference to children and their whānau by supporting our work, please register your interest today.
We believe in successful partnerships for both parties, and our approach is to work together on a tailored plan to meet your marketing and business objectives.