Freddie Dick's personal development grant story
Freddie Dick was six years old when he was diagnosed with acute lymphoblastic leukaemia in August 2020. Happily, he is now in maintenance, with his treatment finishing in October 2022.
To help Freddie develop new skills and explore a new passion after finishing treatment, Child Cancer Foundation awarded him a personal development grant. A grant can be life-changing for family and is often an important factor in helping them move forward with their lives.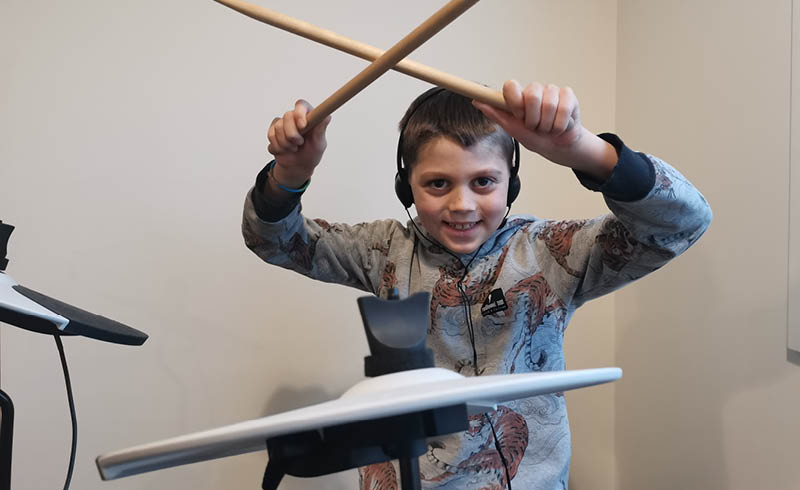 We spoke to his mum Lisa about their experience of receiving a personal development grant to fund an electronic drum kit and a year's worth of drum lessons for Freddie:
"Our Family Support Coordinator Christine told us about the personal development grant programme earlier on in Freddie's cancer journey, but we weren't in a position as a family to consider it until now.
"For so long, everything has been about Freddie's leukaemia – every conversation has been about how he's feeling, what treatment he's on, whether he has been in hospital recently, etc. This grant has changed his narrative. Now when people ask about Freddie we can say, "He's good, he's learning the drums." The focus isn't on his illness, it's on something more positive.
"Drums has been a really good choice as Freddie loves music – every time he has a general anaesthetic he chooses a song to fall asleep to. Music has seen him through some hard times, and so it's great that he is now able to learn it. Drums are also good for learning about patterns, rhythm and coordination – they are really stimulating for him.
"A personal development grant helps you to step away from illness and into something new. It allows positivity back in and a new focus. We are very grateful for this opportunity for Freddie."
Read more stories like this in our latest issue of Sharing magazine.
Help us make a difference.
We can't do this without you.
Child Cancer Foundation provides support to Kiwi kids on their cancer journey. We need your help to provide the vital support to families. Please make a donation today.