The Precision Paediatric Cancer Project
A ground-breaking clinical trial for childhood cancer treatment in New Zealand
One of Child Cancer Foundation's core pillars of support is contributing to the ongoing improvement of cancer treatment available to Kiwi children. To do this, we work alongside like-minded organisations to ensure that our resources are having the biggest impact for children with cancer and their whānau.
With that in mind, in 2020 Child Cancer Foundation was thrilled to announce the extended funding of the Precision Paediatric Cancer Project (PPCP), a ground-breaking study which provides a more hopeful outlook for Kiwi kids diagnosed with rare and hard-to-treat forms of cancer.
The project, led by Paediatric Haematologist/Oncologist, Dr Andy Wood, began in 2018 and is the first of its kind in New Zealand. Working in partnership with Cure Kids and the Lindsay Foundation, we are proud to have pledged a further $750,000 in the project in 2020, after our initial investment of $625,000 in 2018. This second round of co-funding will expand the reach of the project over the next four years.
To learn about the PPCP, listen to Cure Kids' interview with Dr Andy Wood by clicking the link below.
For a real-life example of the incredible impact the PPCP can have on Kiwi children, we always look to six-year-old Lucca Holecliffe, who we profiled when the project first launched. When Lucca was diagnosed with an extremely rare and aggressive form of cancer in 2016, her parents were told that her cancer was unlikely to respond to traditional chemotherapy and radiation.
Dr Andy Wood's research has enabled Lucca's doctors to identify the best treatment for her specific cancer, which has so far had an extraordinary improvement in her health and wellbeing. At the time of Lucca's diagnosis, only nine other cases of her type of cancer had been documented worldwide. Sadly, eight of those nine people died within 9 months, while four years on, Lucca is thriving. She has regular scans every few months, but she is healthy, happy and enjoying life just as every young girl should.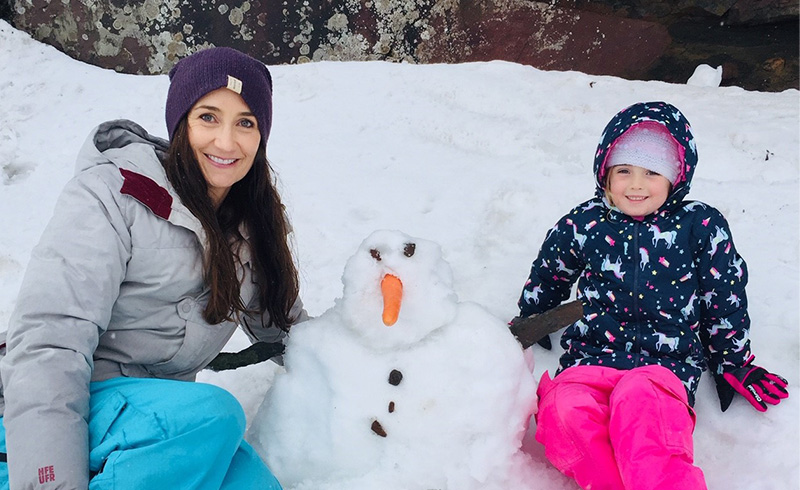 Mum, Jordanna, says Lucca relishes school and an adventurous spirit, enjoying bush walks, camping and swimming. She has also taken up gymnastics and lyrical dancing, and is a loving big sister to little brother Harrison. "Lucca has such a sunny disposition and loving heart, and every day we feel grateful to have her in our lives," Jordanna says. "We feel incredibly lucky to have her under Dr Andy's care, where she is being monitored closely and where there is knowledge of the latest innovations in treatment."
Here, Dr Andy Wood provides an update on how the project is progressing in 2022:
"The major challenges for the PPCP are implementing genetic tests equal to or better than leading commercial providers and ensuring accredited testing to provide access to the latest anticancer medications. Facilitating access is an important priority because future drug access in Aotearoa will always be challenging due to drug costs and our geographic size and isolation.
"A major goal has been to provide the most comprehensive sequencing possible using whole genome sequencing (WGS) and whole transcriptome sequencing (WTS). The world-leading team in Sydney received approval in July 2022 to open their latest trial using the very best WGS, WTS and analysis. Now that it can open in Australia, we are moving quickly to open it in Aotearoa under the banner of the PPCP.
"In addition, the international PedAL project was launched in the USA at the end of June, and we just received approval to open it in Aotearoa. This will comprehensively profile acute myeloid leukaemias that are relapsed or unresponsive to treatment and match them to exciting new trials. We hope that all of this will improve survival and quality of life for our tamaraki and rangatahi."
Child Cancer Foundation is proud to be a key partner in a project which will provide so much hope for tamariki like Lucca who are diagnosed with cancer in New Zealand.
FAQ
What is a clinical trial?

A clinical trial is a method of research that studies a test or treatment given to people. Clinical trials study how safe and helpful tests and treatments are.

What is the aim of the PPCP?

The main goal of the project is to use a technology called next-generation sequencing (NGS) to identify the genetic mutations causing rare cancers in children.

In the best case scenario, NGS can help doctors find targeted therapies that are more effective and gentler than traditional chemotherapy. NGS can also sometimes help make or refine a diagnosis and provide additional information about prognosis or treatment options. Using NGS to help diagnosis and treatment can be more precise in some cases, and is sometimes called 'precision medicine'.

Most NGS tests can sequence around two million letters of DNA, which is still an excellent approach and adequate for most situations. The additional funding to the PPCP will allow Dr Wood and his team to offer a more comprehensive type of NGS for selected patients. Whole-genome sequencing (WGS) sequences the entire six billion DNA letters in the genome. WGS is more difficult to perform and interpret, but it provides a huge amount of information to families and health professionals.

How many New Zealand children will be enrolled in the trial?

Approximately 20-25 eligible children with cancer will be enrolled in the trial each year for four years, (approximately 100 children in total).

Why is the PPCP important?

Currently in New Zealand, childhood cancer treatment often takes a shotgun approach – injuring healthy cells while attempting to kill off cancerous cells. Life-long side effects can result, including infertility, heart problems and recurring cancer. Advances in gene sequencing (such as NGS) offer the opportunity for more precise treatment, as well as improved outcomes and quality of life for New Zealand children who have cancer.

Who is Dr Andy Wood?

Dr Wood is a New Zealand-trained paediatric oncologist who worked at the Children's Hospital of Philadelphia, one of the world's leading child cancer hospitals, prior to returning to New Zealand to work on this research. He will be supported by a team of health professionals in Auckland and Canterbury throughout the PPCP clinical trial.

Where will the PPCP clinical trial be based?

The clinical trial is being offered at both of New Zealand's specialist paediatric cancer centres – Auckland's Starship Hospital and the Children's Haematology and Oncology Centre in Christchurch.

Has similar research been done before?

In the USA, Europe, and Australia there are already large-scale research projects delivering childhood cancer NGS results to patients and families. New Zealand does not currently offer the NGS test in any capacity, and families of child cancer patients wishing to undergo gene sequencing have to look overseas and fund it themselves. The PPCP will provide eligible New Zealand child cancer patients with free access to NGS for the first time.

Which children will be able to participate in the PPCP?

The PPCP trial participants will be determined using strict eligibility criteria. The focus of the PPCP is children with difficult-to-treat or relapsed cancers. Access to the trial will only be possible through the child's paediatric oncologist.

How do I find out if my child is eligible for the PPCP?

Childhood cancer patients eligible for this trial must be managed by the Starship Blood and Cancer Centre, or the Children's Haematology Oncology Centre in Christchurch, and will have to meet strict eligibility criteria. In all cases, please speak to your treating oncologist first and they will be able to access additional information specific to your child's eligibility.

What is involved?

Childhood cancer patients eligible for this programme will have a sample of cancerous tissue taken for genome sequencing. Once the cells are sequenced, the results will be analysed with the aim of identifying genetic mutations in which previous research has shown a specific treatment approach to be effective. These results will be considered by a team of oncologists, surgeons and other experts who will make treatment recommendations to the family and their lead physician.

How much will the PPCP cost parents?

There will be no charge for eligible New Zealand children to be part of the PPCP trial. The funding from Child Cancer Foundation, Cure Kids and the Lindsay Foundation will cover the full cost of the trial.
Help us make a lasting difference
Support ground-breaking childhood cancer research.
With your help, Child Cancer Foundation can fund more research to support the ongoing improvement of cancer treatment available to Kiwi children like Lucca.