How this dad has coped with his son's cancer diagnosis
For dads living through the emotional challenges of having a child with cancer, often the most powerful learning experience can come from connecting with other men on a similar journey.
Essentially Men's Warren Philip sat down with Dan Walker, whose 11-year-old son Joshie was diagnosed with Ewing sarcoma in February 2021, to find out what he has learnt about mental health and being able to be there for his whānau.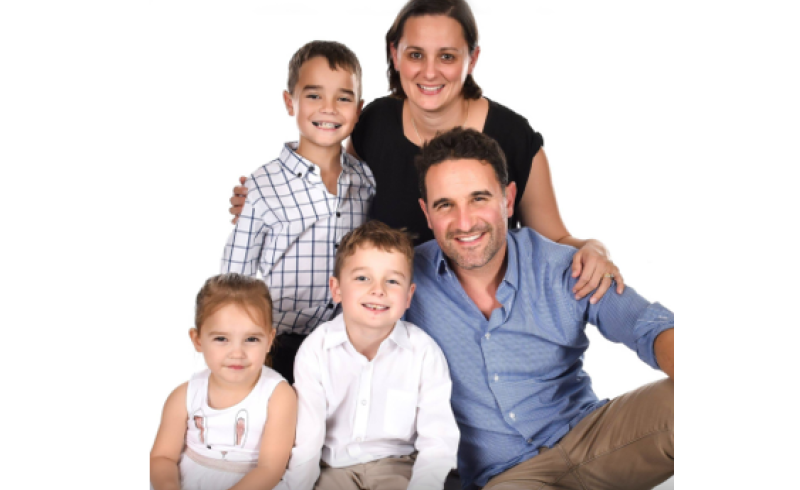 Warren: So Dan, what was it like for you to find out Joshie had cancer?
Dan: It still makes me shake and I have to breathe through the memory slowly. When the words were said, outwardly I kept it strong while my wife Michelle truly let go and burst into tears. I held her and stayed strong for her, Joshie and our other two children, Tyler (8) and Maia (4). I asked the 'business' questions that needed to be asked around timing, treatment options and next steps. Josh was wheeled off for the first of many operations the next day, and chemo started a week later. I don't know how I got through that first few days – let alone weeks.
W: I can only imagine how hard that was for you.
D: Yeah, but for me the struggle was actually expressing my emotions. I always used to hear the comments about societal expectations on men – I really felt that at this time. I wanted Joshie and the family to know that it will be okay. They didn't need to freak out because I wasn't. But then I created unrealistic expectations on myself because so many things happen with cancer that I couldn't control. I spiralled into depression as I blocked up a lot of my feelings. I was numb – my health suffered.
W: So what happened?
D: What finally moved me out of my depression was the 'Men Being Real' (MBR) weekend with Essentially Men. I learned that many men are going through similar battles. It may have nothing to do with cancer, but many men are going through tough times and suffering. And we tend to do it alone and in isolation for a variety of reasons. For me it was shame, fear of letting go and uncertainty. The MBR weekend gave me a safe space as a man to share my pain with other men who cared. I cried for the first time since I heard Joshie had cancer – surrounded by other men. But most importantly it gave me good men to connect with. I came out of my cave and started building my relationships back up with everyone.
Another concept that I really connected with is this idea of control. Again, the expectations on us as men is that our role is to be the one in control for the family. Yet when it comes to cancer the control I truly had was limited. Of course I can control my response, but the outcome was and is largely out of my hands. I have learned not to be hard on myself when I find myself overwhelmed. I stop and breathe, understand that it is okay for me not to be okay and to find a kind thing to do for myself.
W: Given your experience, what would you say to other dads in the Child Cancer Foundation (CCF) network?
D: To truly provide for your child and the rest of your family, you must look after yourself. Allowing yourself to actually feel your emotions is the best thing you can do for yourself and them. And you're not alone. Know that at any given time, there's probably hundreds of other men in the CCF network going through the same thing as you. If you can, connect with those dads. I'd also encourage every man to attend a Men Being Real weekend offered by Essentially Men. CCF is kind enough to meet the full cost of travel and attendance. That was a real gift to me and my family.
About the author
Warren Philip is a volunteer facilitator with Essentially Men and met Dan when he did his Men Being Real weekend.
Essentially Men is a charitable organisation whose vision is for men to know themselves, connecting head and heart. For more information on how Child Cancer Foundation works with Essentially Men, please visit www.childcancer.org.nz/essentially-men.