The Big Hoot
The Haier Big Hoot was a public art trail presented by Child Cancer Foundation in 2018. Created to raise awareness and funds for Child Cancer Foundation, the Haier Big Hoot was designed as a community initiative, bringing together the work of New Zealand artists and Auckland school students.
The event featured 48, 1.65m tall owl sculptures decorated by established and emerging New Zealand artists. While a core of owls formed a walking trail in the city centre, other owls were displayed across the wider Auckland metropolitan area, from Manukau to Birkenhead, St Heliers to New Lynn, strategically placed in popular, publically accessible locations for the highest possible engagement with the people of the wider Auckland community.
Also featured in the event were 56, 90cm tall fiberglass owlets decorated by Auckland school students as part of the Little Hoot schools programme. Participating schools were given a package of resources and templates, developed with support from New Zealand educators, so they could be included in the standard curriculum. With story-telling, team work, and design modules, the package guided teachers and students through the process of designing and decorating their owl. Each school owl appeared in the public trail, and were placed in parliaments in malls and libraries. At the end of the trail these smaller owls were returned to their schools.
This public event helped Child Cancer Foundation to engage with a wide range of audiences, from the general public to corporates, schools, media, and artists. Also, as each owl was sponsored, the local businesses and organisations involved used their owl and the designing artist in their own promotional activities, helping to further increase awareness of the event and Child Cancer Foundation.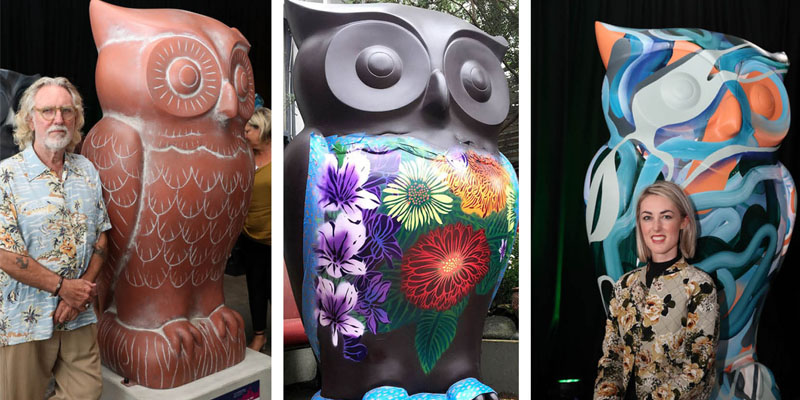 Above: Dick Frizell, Flox and Grace Wright's Artist Owls
Not only did the event increase awareness of the work Child Cancer Foundation does to support Kiwi children with cancer and their families, at the end of the trail the 49 owls were auctioned, raising $382,000 in vital funds to support our work. Despite many going to private buyers, happily some of the owls have begun appearing publically again in the community.
The campaign was recognised in the 2018 New Zealand Events Association's (NZEA) Awards and took top honours in the 'Best Corporate Social Responsibility (CSR) or Not-For-Profit Event' category.
The Big Hoot was licensed from Wild in Art, who facilitate public art events globally. We would like to thank all who were involved in making the Big Hoot such a success.