West Otago community recognised for service to Child Cancer Foundation
When Jock Davies was diagnosed with leukaemia in 2013 at age nine, it became very clear to his family just how generous their West Otago community was.
When Jock Davies was diagnosed with leukaemia in 2013 at age nine, it became very clear to his family just how generous their West Otago community was.
From setting up a roster for locals to drop off dinner and clean their house, to taking Jock's older brothers George and Tom to sports practices and organising multiple events to raise money for the family, the tight-knit community helped the Davies keep life as normal as possible during the very stressful years while Jock was on treatment.
"We were blown away by the generosity on so many levels," Jock's mum Sarah says. "We live in an amazing place."
Throughout their journey with Jock's cancer, the Davies family have been hugely involved with giving back to Child Cancer Foundation, who Sarah describes as having been part of their family since Jock was first diagnosed. And because the Davies are passionate about supporting the Foundation, their community is naturally right there beside them.
"We love giving back to Child Cancer Foundation to help all those other families that find themselves on a journey that they never imagined," Sarah says. "The fact that our community knows that it is a charity very dear to us means they continue to support it too."
The community's biggest show of support always comes on Wig Wednesday, where they pull out all the stops to get wiggy. Each year, a collective of West Otago schools and businesses jump on board, creating a sea of colourful wigs around the region. In 2021, the community raised over $7,000 for Wig Wednesday, with eight staff and students at the local high school, Blue Mountain College, shaving their heads to raise money and awareness.
The Davies were recognised for their support of Child Cancer Foundation in our 2019 National Volunteer Awards, receiving a much-deserved Community Service Award. But for a family who is surrounded by such a giving community, they never felt like it was just about them. "We just do what so many others do in our community," Sarah says.
So it felt fitting that the entire West Otago region was recognised with Community Service Award in our 2021 National Volunteer Awards. A total of 26 West Otago organisations were nominated for the award – a massive achievement for a small but incredibly generous community.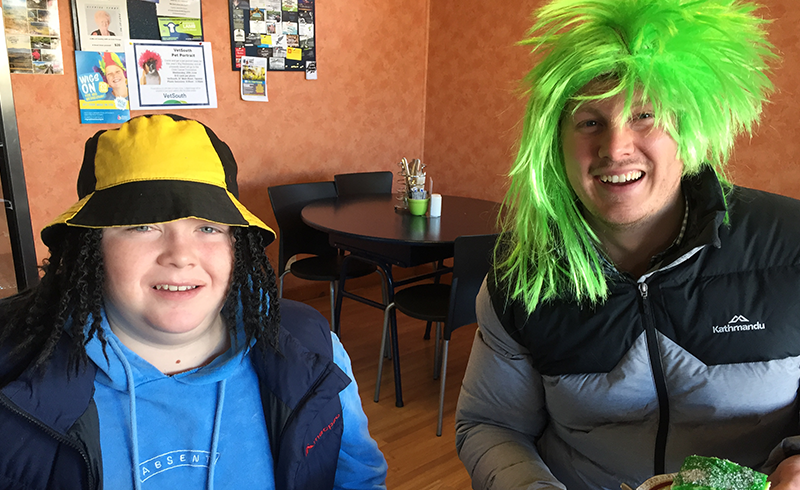 Testimonies:
"As coordinator of the annual Wig Wednesday fundraiser in West Otago it has been overwhelming seeing this event grow each year. It is so heart-warming having a community behind you to raise money for a charity that is very special to our family. As a family we can't thank our community enough for embracing Wig Wednesday, and the Community Service Award that businesses and schools are receiving is thoroughly deserved."
"There is no better display of working together than the West Otago community getting in behind Wig Wednesday! The RTL team are privileged to be a part of such a heartfelt day, driven by an amazing co-ordinator and her team, for such a worthy cause that is so close to our hearts. #workingtogether"
Shona Robertson, CEO at RTL
"It is such a privilege to be part of the annual Wig Wednesday fundraiser. Our school community has witnessed first-hand how this fundraising supports families."
"It has been a delight to see how the students of Blue Mountain College get behind the concept of Wig Wednesday and totally embrace the spirit of the day. It's a privilege to do our small part for such a worthwhile cause. It is a charity dear to our school community."
"West Otago is a great community and we always do whatever we can when it is needed. Wig Wednesday is another great cause to get involved in, and you see that in the number of people who volunteer to have their hair shaved as well as the great totals that are raised each year. Sarah Davies and her team do a great job getting the Child Cancer Foundation name out in our community."
If you would like to support Child Cancer Foundation as a volunteer, please register your interest today.