Strategies for ensuring cancer doesn't define your child forever
By Katherine Tarr, Parenting Place
From very early on in life, our children are on a journey of forging their own unique sense of identity. For some kids a cancer diagnosis is thrown in the mix, which will no doubt have a significant influence on how they see themselves. It will also affect how others see them, especially their friends and peers.
At the end of the day, every child is different and will frame any life experience – including cancer – their own way. In terms of identity, a child going through cancer may also change their approach day to day – opting to highlight it one day and hide it the next. Some may embrace the fact that their diagnosis and treatment make them rather special and different from other kids, others may resent that difference. And again, even that sentiment may change from week to week!
Staying closely connected to your child so you can 'read' their preferred approach and support them in it is perhaps the most helpful way to parent them through this journey. Keep in mind that their approach may change, and therefore what they need from you in terms of support will also change.
On the other side of treatment, no matter how old you are, you're no longer the person you were before you had cancer. It can be tricky for kids to return to normal life and work out who they now are. Again, coming alongside our kids and closely supporting them through the various challenges to their sense of identity is hugely important.
Here are some ideas that may help you do this. Experiences with identity formation vary hugely between individuals, so some of these ideas will be relevant for your child while others may not be.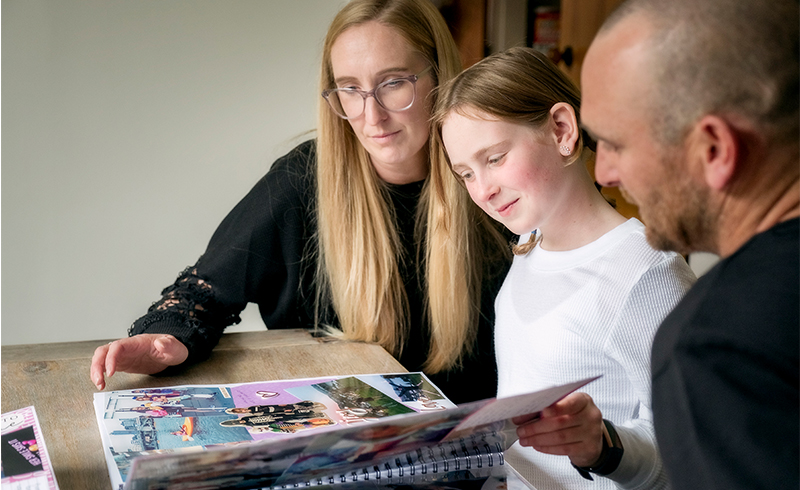 If you find your child's friendships have changed and kids are now treating them differently:
Gently remind your child that there's a high chance their old friends do still really care about them, but they just don't know what to say or how to act. Or they might be so afraid of saying the wrong thing that they say nothing at all. Encourage your child to take the first step and reach out to their friends. Have their friends over to your house and provide a relaxed environment where kids can talk about 'normal' everyday life or simply hang out together, perhaps watching a movie and eating snacks. Food is great for bringing people together!
If cancer treatment has changed your child's appearance, they might find that some people stare, mistake their gender or ask personal questions. Prepare your child for this by equipping them with some simple responses to typical questions, while also reminding them that they don't have to respond at all if they don't feel like it. It is also important they know that if they are experiencing bullying of any kind then they can talk to a trusted adult at any time.
If your child is comparing themselves with others:
Your child might feel empowered by knowing a 'secret' truth: humans, in general, are pretty self-absorbed. While your child may feel like everyone at school is looking at them, most of the time kids are actually pretty focused on themselves. It might also help your child to know that feeling self-conscious is a common struggle for lots of people – young and old, cancer or no cancer.
Help your child see their strengths. Perhaps their cancer treatment has changed what they are currently capable of physically, but at the same time it's given them experiences and insights that most other kids never have. These experiences can be reframed as 'superpowers'. For example, your child might have developed a greater sense of compassion for others, an interest in hospitals and care work or an advanced understanding of medicine and biology. They may also have ideas for how to help other kids going through what they themselves have been through – that's a superpower right there!
If your child doesn't want to be the 'cancer kid':
Help your child return to their normal life as best as you all can. Getting back into the school routine and their usual activities will help ensure that cancer isn't the focal point of their life or the thing that defines them. Returning to routines, even if they are adjusted, also helps your child connect with their friends and contributes to their wellbeing.
Remind your child that 'cancer survivor' is only one part of who they are. Their personality, interests and talents are still at the core of who they are and illness doesn't change that.
And if they do want to be known as the 'cancer kid'?
Your child is of course welcome to embrace all that the experience gave them. They've no doubt journeyed through some dark, scary and painful moments, but they overcame. They have courage, strength and empathy for others and deserve to be celebrated!
Keeping in touch with kids and families who have been through similar experiences may help your child process what they've been through as well as provide them with a safe space where they can feel understood, especially if their school friends can't meet that need.
An experience with cancer is life-changing and may be a part of your child's identity for a long time, but it doesn't have to define the rest of their life. Things may never return to normal, but that doesn't mean that your family's new normal can't be awesome! You and your child have been through the fire, but that's where the gold is refined. Your child has a head start on bravery and resilience, and that is a very special part of who they now are.
About the author
Katherine Tarr is a child and family psychologist with experience working in both the early intervention and education settings. She now works for Parenting Place as part of their programme development team. Prior to training as a psychologist, Katherine was a high school teacher and an outdoor instructor. She has four primary-school-aged children and in their spare time the family enjoys having adventures in the outdoors.
Parenting Place
Parenting Place is New Zealand's charity for families. Head to parentingplace.nz for help, support and ideas, no matter the age and stage of your kids.
Photos: Tamsin Baker, diagnosed age 7. Photography by Adrian Malloch.