The Kiwi artists behind the handmade glass courage beads
As well as the Beads of Courage® programme beads they receive throughout their treatment, children also receive special glass 'courage' beads to recognise their strength. These are handmade by a group of incredible glass artists around New Zealand, who provide Child Cancer Foundation with hundreds of beads every year.
We spoke with Shirlee Wilton, who is our bead coordinator and one of our main contributing glass artists, about the process of glass bead making and why she loves making beads for tamariki with cancer.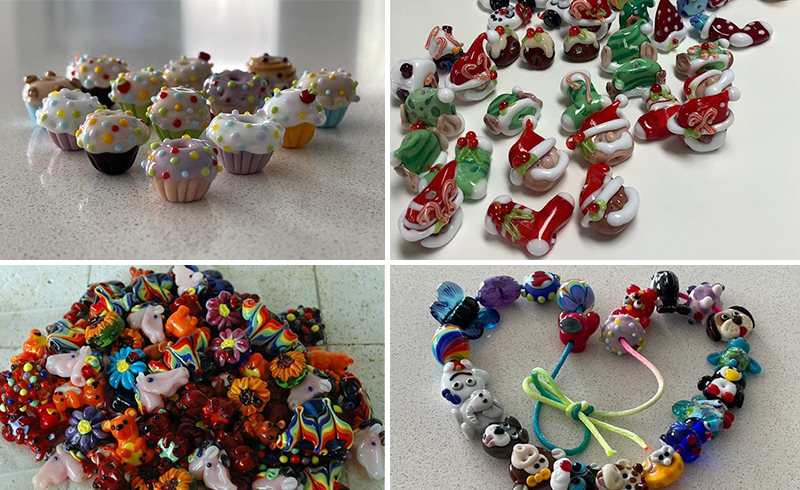 How long have you been a glass artist?

I have always loved colour and glass. I originally wanted to be a glass blower, but given the equipment and strength required I decided that lampworking (bead making) was the better option. I learnt the basics of lampworking over 12 years ago in Whangārei, got completely hooked and haven't regretted a moment since.

What inspired you to start making glass courage beads for children with cancer?

I had heard of the Beads of Courage® programme when I started lampworking but didn't have the resources to support the programme. That all changed in 2013, when my youngest daughter Bailee was diagnosed with Stage IV Hodgkin lymphoma at age 14. When she was on treatment at CHOC in Christchurch, I saw first-hand the importance of the Beads of Courage® programme. You always knew when the 'Bead Lady' was in the ward because the atmosphere would change to one of excitement.

The beads offered to Bailee at the time were small and brown – they were beautiful, but I thought I would have a play when I got home and try to make something different.

How long have you been providing glass courage beads to Child Cancer Foundation?

When at home in Masterton between treatments I started to make themed beads (beads that were animal shapes, etc.). I would drop them off at the Wellington Family Place on our way to treatments or into work. When the former bead coordinator resigned in 2014, I was asked if I would pick up the volunteer role. I agreed on one condition – that all donated beads were distributed equally between the two treatment centres in Auckland and Christchurch so all kids would have access to a similar range of beads.

We have had artists come and go, but there is a core group who have continued through the years: Deb Bell, Bobbie Pene, Robyn Parkinson, Nikki O'Brien, Karen Beever, Susan Elliott, Gayle O'Duffy, Deborah Woolford, Donna Hall and Karen Southey. Without these talented artists, the programme would not be as special.

How many beads do you and your fellow artists provide to Child Cancer Foundation?

Since I started as the bead coordinator in 2014, lampworkers throughout New Zealand have donated over 11,000 beautiful unique beads to the programme. Deb Bell, Bobbie Pene and I have donated over 7,000 between us.

Lampworking is an incredibly expensive hobby and over the years donations received have been fewer and fewer, as artists give it up because of poor health or our inability to compete with beads being mass produced overseas at cheaper prices. Last year there were just over 500 beads donated. Lampworking is an art form in need of revival – you will never make money doing it, but it restores the soul.

What is the meaning behind the beads for children who receive them?

The beads are a recognition of getting through something scary/tough and celebrating them learning new skills to deal with difficult situations. A lot of children feel really proud when they receive one of the courage beads and feel like their achievements and strengths are recognised. Many children can tell you what each of their courage beads are for and can name the strengths they showed through that time.

What is your favourite thing about making glass beads for children with cancer?

Thinking of new designs – I'm currently working on native birds. While my favourite beads to make are flowers, horses and dogs, I love it when special requests come in.

For me, lampworking is a type of meditation to release the stress from the week. It focuses me and makes me a nicer person.

Every bead I make I think of my daughter and the other families I met at CHOC, and I am reminded of the incredible children and families going through what could be the most difficult time of their life.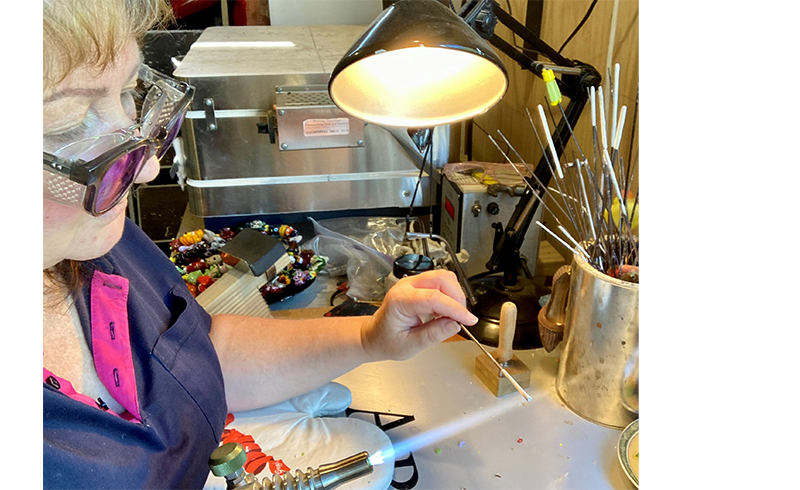 Shirlee's bead-making process:
Think about your design. Beads for children with cancer have to be compact with not many sticky-out pieces.
Prepare the mandrel. Dip a mandrel (metal rod) into a release agent so the molten glass does not fuse directly to the metal.
Heat the rod and mandrel. Select rods of glass to heat in the torch flame. When both your glass and the mandrel start to glow, begin rotating the mandrel. Make sure you introduce the glass to the flame slowly – if introduced too quickly the glass may shatter from thermal shock.
Shape the glass using a combination of heat, gravity and tools. One of the arts of glass flameworking is keeping the glass hot enough to shape, but cool enough that you can keep it under control. The tools I use are tweezers, pokers, hooks and flat graphite.
Decorate the glass. Create dots or lines by melting stringers or fibres of glass on the surface. Use tools to create varying textures.
Once finished shaping and decorating the glass, for safety it needs to be annealed (using a kiln). Annealing is the process of slowly cooling down the glass until the piece reaches its 'stress relief point' to avoid thermal shock.
Cold working. Once cooled, remove any sharp edges left over from the flameworking process and bead release from the inside of the bead.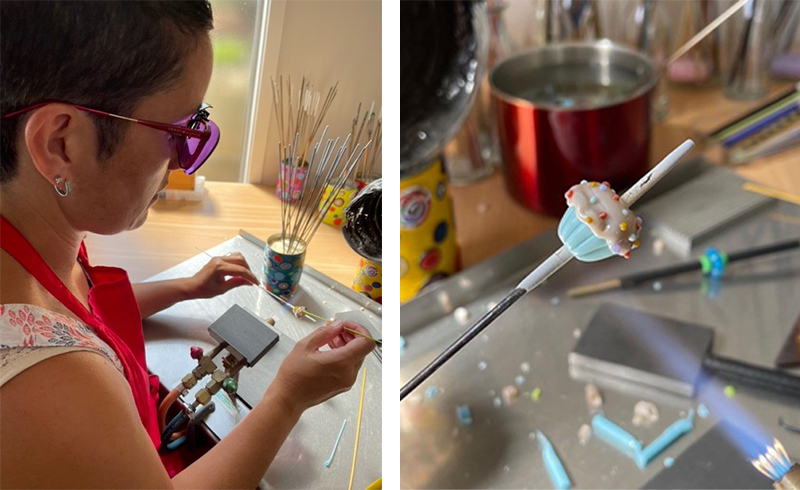 If you are a bead artist, or know someone who is, please consider donating lamp-worked beads to our Beads of Courage® programme. We accept any undamaged beads – any colour/ shape, misshapen, orphaned or those not sold.
Get in touch with Shirlee at CourageBeadArtists@childcancer.org.nz.