Acknowledging the retirement of Dr Jane Skeen
We want to acknowledge the retirement of Dr Jane Skeen, a paediatric oncologist and Child Cancer Foundation Life Member who has dedicated her career to improving the conditions for children diagnosed with cancer in New Zealand and the Pacific.
After graduating from the University of Auckland, Jane decided to pursue a career in paediatrics in her third year as a junior doctor. In January 1981, she was appointed to what would become a permanent position in paediatric oncology.
Jane's involvement with Child Cancer Foundation has spanned 35 years, including 33 years as the health professional representative on the Board. She was awarded an Honorary Life Membership for Child Cancer Foundation in 2001 in recognition of her many years of service, particularly in strengthening the relationship between the Foundation and its colleagues in the health profession.
Jane, thank you for your incredible contribution to the field of paediatric oncology in New Zealand and the Pacific. There is no doubt that your work has made a huge difference in the lives of many families.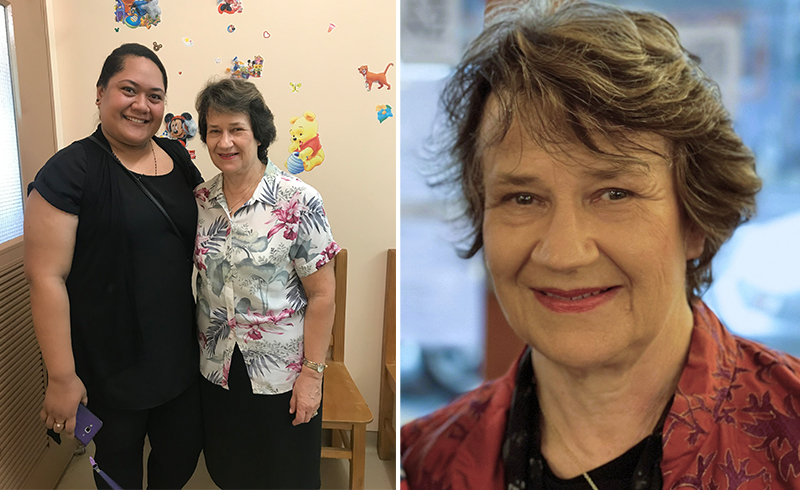 Five minutes with Dr Skeen
What are the biggest changes you have seen in the paediatric oncology field in New Zealand throughout your career?

The formation of a national service, moving from five treatment centres to two sites in Auckland and Christchurch. As a result, more families had to travel for treatment and many became dislocated for long periods of time – physically, financially and emotionally. This underpinned the importance of support from Child Cancer Foundation.

With increasing survival rates, there also became a generation of survivors that previously didn't exist. What followed was the new discipline focusing on the late effects of cancer treatment for children, adolescents and young adults and survivorship.

A funding initiative involving the Ministry of Heath, CanTeen and Child Cancer Foundation resulted in the development of three late-effects services (in Auckland, Wellington and Christchurch), the appointment of Adolescent and Young Adult (AYA) nurse specialists and recognition of the importance of clinical research associates to ensure ethics committee approvals and compliance with data.

What do you hope the future of paediatric oncology will look like for patients and families in New Zealand?

Further increasing survival rates, improvement in quality of life for survivors, a reduction in treatment-related side effects whilst maintaining excellent cure rates and ongoing international collaboration with improved participation in clinical trials.

I'd also like to see further building on and strengthening the partnership between health professionals and Child Cancer Foundation. And finally, that service delivery for children with cancer will continue to be appropriately resourced.

What moments stand out to you as highlights in your career?

1985 – Child Cancer Foundation becoming a national organisation.
1991 – Completion of the purpose-built oncology ward (Ward 27B) in Auckland's new Children's Hospital (later to be named Starship) and patients transferred from Princess Mary Hospital.
2001 – Receiving an Honorary Life Membership for Child Cancer Foundation.
2006 – The formation of the Pacific Working Group – initially with two years of NZ Aid funding, which allowed collaborative relationships to develop with Fiji, Vanuatu, Samoa and Tonga. The aim was to improve the availability of treatment and outcomes of children with cancer in the Pacific, enabling countries to deliver chemotherapy under specially developed treatment protocols with support and guidance from New Zealand. Child Cancer Foundation also provided guidance and facilitated the formation of parent support groups, as well as committing to supporting families when they need to come to New Zealand for short periods of time.
Recognition of the importance of the disciplines of paediatric palliative care and late effects.

What achievement in your career are you most proud of?

Being part of an ever-expanding multidisciplinary team that is working nationally and internationally to improve the outcomes of children with cancer and their families. I am fortunate to have worked in a collaborative environment with an amazing and dedicated team of health professionals.

As Chair of the Pacific Working Group I was able to provide advice, guidance and training to our Pacific-based colleagues through visits with fellow health professionals (and more recently via Zoom).
Read more stories like this in our latest issue of Sharing magazine.