Dean Bradley awarded an Honorary Life Membership to Child Cancer Foundation
We are thrilled to have awarded Dean Bradley with an Honorary Life Membership
We are thrilled to have awarded Dean Bradley with an Honorary Life Membership for his 17 years of dedicated service to Child Cancer Foundation. 
The award was presented by The Rt Hon Dame Cindy Kiro, Governor-General of New Zealand, at Government House Auckland on Thursday 15 June. 
Dean's involvement with Child Cancer Foundation began in 2006 when his daughter Amber was diagnosed with a brain tumour. Sadly, Amber passed away in 2007. 
Since Amber's passing, Dean has given a significant amount of time and energy to Child Cancer Foundation. He has held numerous roles within the Foundation, from his first role as part of the Wellington Branch, of which he was elected Chair, to being a member of the National Board since 2014. 
It is a pleasure to be able to recognise Dean's contribution to Child Cancer Foundation through a Life Membership Award.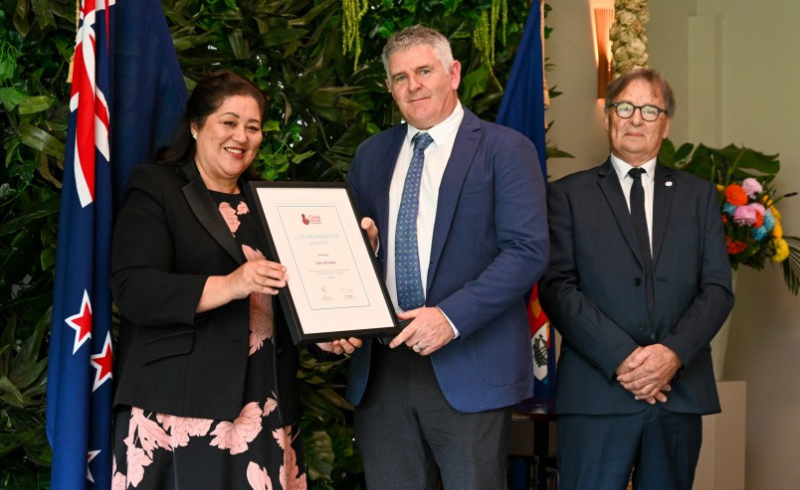 Find out more about Dean Bradley's involvement with Child Cancer Foundation: 
What motivated you to join the Child Cancer Foundation Board?  

When Amber passed away in 2007, I joined the local Wellington Branch (as it was in those days) and was elected the Branch Chair. I served in the role of Chair for seven years until elected as Regional Representative in 2014 for Wellington, Manawatū, Nelson/Marlborough, Taranaki and Hawke's Bay. In those days, the Regional Rep took a position on the Board as a parent representative. 
What other parts of the organisation are you involved in? 
I currently serve as the Chair of the Personal Developments Grant Committee. This is a Board programme that directly helps children with cancer and their families by providing funds to help them move forward with their lives by developing new skills or exploring a passion. I also serve on the Awards Committee. 
I volunteer each year to collect for the Foundation during their annual Street Appeal and remain a member of the Wellington Whānau Connect Group (in a more passive role). 
What moments stand out for you as highlights since being involved with Child Cancer Foundation? 
I am proud and honoured to serve on the Personal Development Grants Committee as the current Chair. The programme means a lot to me as it directly touches the lives of our children and their families and makes a real difference to their lives. 
It was also good to be part of the Board team that centralised the Branch funds into one place. I understood why the Branch model was used in the past, but felt that, given the times we live in, centralising it was for the good of all. 
Another highlight is working with my fellow Board members and Chief Executive Monica Briggs to secure the Wellington Family Place as the home of Child Cancer Foundation in Wellington. I know how much it means to all the families that have visited the building over the years and feel that it gives the Child Cancer Foundation a real presence in Wellington.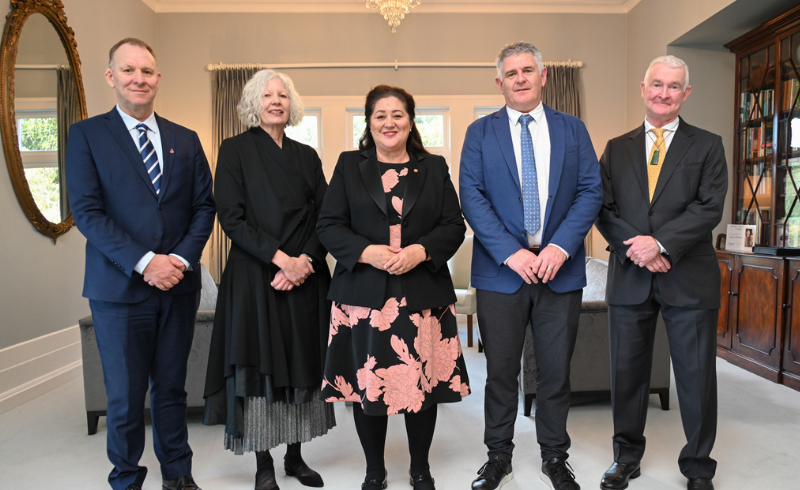 What are you most proud of regarding your involvement with the Child Cancer Foundation Board and/or other committees? 

I am very proud that everyone involved with Child Cancer Foundation, whatever their role, really embraces the vision of the organisation: "To walk alongside and support all children and their families on their cancer journey and advance improvements to child cancer care." 

I feel that if I can make one child, sibling or parent's life better due to the work I do for Child Cancer Foundation, then I have done my job. For me, it's all about our children and their whānau. 
What does being awarded an Honorary Life Membership mean to you? 
I feel incredibly proud and very honoured to receive an Honorary Life Membership. It means that my peers feel that I am worthy of the distinction for the work I have done and will continue to do for Child Cancer Foundation. 
It means that through my work for the Foundation, I have made a positive difference to the lives of our children and whānau, and I hope to continue to do so in the future. I join esteemed company as an Honorary Life Member and am proud to sit alongside them. 
What is your day job, and what do you like doing in your spare time? 
My day job is as an Event Manager. I manage a wide range of events nationwide – it is a great job. I am also a father to Finn and Jerome, a partner to Marleen and a stepfather to Marieke and Annaliese. 
In my spare time I enjoy off-road running, watching motorbike racing and spending time with my dog, Olly. I am also a SciFi tragic and collect tin robots and paraphernalia from Star Trek, Dr Who and Star Wars. 
Help us make a difference.
We can't do this without you.
Child Cancer Foundation provides support to Kiwi kids on their cancer journey. We need your help to provide the vital support to families. Please make a donation today.