Eli's story
We were so excited to be able to spend a day with one of our awesome Stars, Eli Hillary, and his family to take some photos for our 2022 Great Kiwi BBQ campaign
You may have noticed some of the family photos with the delicious spread of barbecued food – this is a real family who has been impacted by childhood cancer and received support from Child Cancer Foundation. 
We were so excited to be able to spend a day with Eli Hillary and his family at their home in Invercargill to take some photos for The Great Kiwi BBQ 2022 campaign.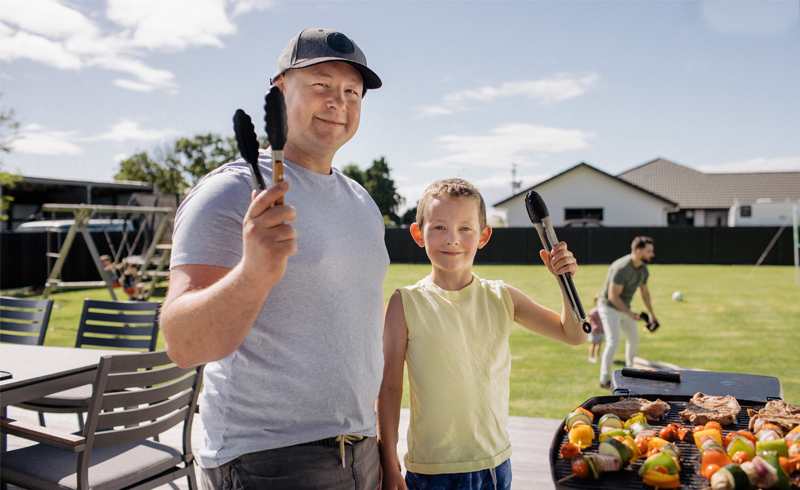 Eli was just seven years old when he was diagnosed with cancer. Straight away he had to leave his home in Invercargill and move to Christchurch to get life-saving treatment. After doing some more tests, his family was told he had acute myeloid leukaemia – a rare type of cancer that affects the blood and bone marrow. 
"We were told that was the worst type of leukaemia – the one you don't want to get," says Eli's mum Melissa. "It meant he'd have to stay in hospital for six months and undergo multiple rounds of chemotherapy, all while staying in an isolated room." 
Life as they knew it changed pretty much overnight for the Hillary family. Knowing Eli would be in hospital for up to six months, Melissa and her husband Jozac moved their entire family up to Christchurch. It was an especially huge adjustment for Eli's two sisters, Natasha and Scarlett, who had to start at a new school. 
The treatment was extremely rough on little Eli's body. "He lost his hair in his first round of chemotherapy and he hated having his feeding tube taken in and out of his nose," says Melissa. "It was also so hard for him mentally being trapped in that room and being so sick – he barely had any sunlight in there." 
"One of the biggest low points was when he had an allergic reaction to the treatment drugs. He swelled and his skin was burnt all over his body. Then over two weeks his entire body peeled – but at least by then it wasn't so itchy and sore." 
Thankfully, Eli made it through all the treatment and is doing well. He still has to get regular check-ups to monitor his progress, but he is back at full health and living life as every eight-year-old should.
Throughout their experience, the Hillary family found support and comfort through their dedicated Family Support Coordinator, Gabi. "She was just our sunshine," says Melissa. "She was always happy and so good with Eli and it was just effortless conversation. You didn't feel as if you had to be polite and you would never care when she popped in, she'd just sit down and chat with Eli."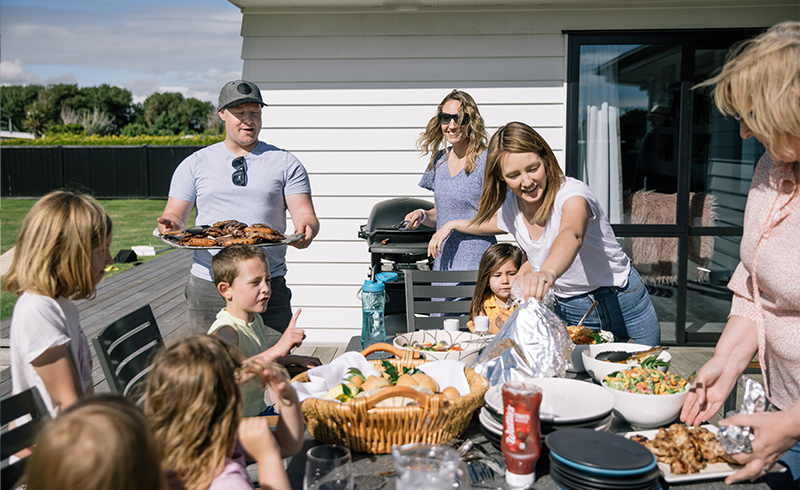 Even now, a year on from Eli finishing treatment, Child Cancer Foundation still supports the Hillary family. Melissa says they are grateful to know that someone is there for them if they ever need support, especially now that they have returned home to Invercargill and are so far away from the healthcare team that treated Eli. 
"We definitely found that after we came home, Child Cancer Foundation was the only continuity of care for our family," she says. "We'd been through a year of stress and it doesn't just finish because you won and you're all at home now. So it's amazing to have opportunities through Child Cancer Foundation like meeting other families through the social events and being able to share your story with people – all of that is really therapeutic." 
It's the support of incredible people like you that ensures we can help families like Eli's through the toughest time of their lives. That's why every dollar raised for The Great Kiwi BBQ makes a difference. You can help by signing up to host a BBQ or making a donation today.