Lucas's story
Shearing The Love: Celebrating Lucas's Cancer Journey
After finishing nearly three years of cancer treatment, nine-year-old Lucas Sigvertsen wants to celebrate being back with his friends at school. What better way than watching his mum, Maree, and his primary school teachers shave their heads for Child Cancer Foundation's Wig Wednesday?
It was late 2017 when the muscles on the right side of Lucas's face began to droop, but as it wasn't a typical symptom of lymphoma, doctors thought he might just have a sinus infection – or even Bell's palsy. After a month of trips back and forth from their home in Gisborne to Auckland's Starship Hospital, including a full-body MRI scan and kidney biopsy in early January, the family were stunned to find out that Lucas had Acute T-cell Lymphoblastic Lymphoma. The six-year-old got his first dose of chemotherapy the next day, which very unluckily happened to be his sister Jess's birthday.
Having worked as a nurse for 15 years, Maree said the medical terms and hospital environment didn't scare her, which was crucial in helping her cope with the diagnosis.
"I explained to Lucas right from the beginning that it was nothing that he'd done wrong or that we'd done wrong," she says, "It was just something we had to fix."
Throughout the two and a half years of Lucas's treatment, he and Maree often had to stay at Starship for weeks at a time, meaning his three siblings lived with Maree's parents back in Gisborne. Their local community also banded together to help the family, providing a lot of support to the kids while Lucas and their mum were away. Though it was tough having to miss out on a lot of milestones while she and Lucas were in Auckland, Maree says it really showed their resilience as a family.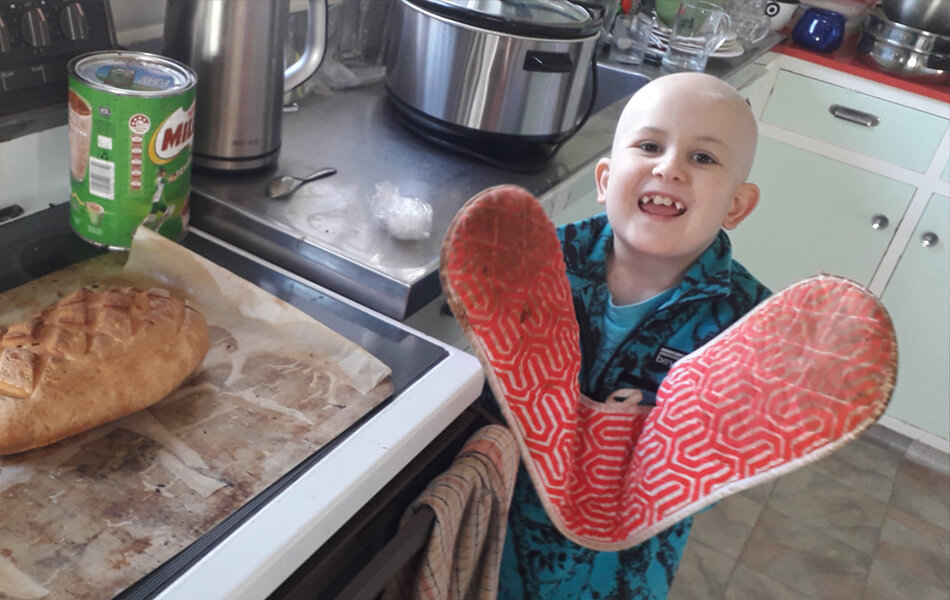 Now that Lucas has reached the end of his treatment and is back to his crazy, energetic self, the family can finally get a welcome sense of normality back in their lives. Not surprisingly, they have been looking for a chance to properly commemorate the turning point.
"We really wanted to celebrate Lucas finishing treatment in a positive way with the whole community. Wig Wednesday came along at the perfect time," says Maree.
So on the 9th of September, Lucas's school, Awapuni School, is going all-out. They are doing a mufti day where the kids can style their hair in weird, wacky and wonderful ways, and Lucas's class will be making hats and wigs out of recycled materials to wear on the day.
The highlight is sure to be a full-school assembly where Maree's hair will be shaved by one of the teachers. But to make things even more exciting, for every $500 raised on their everydayhero fundraising page, a teacher will also have to shave their head. So far, three teachers are already lined up for the clippers, but Maree and Lucas want to see as many join in on the fun as possible.
For Maree, their Wig Wednesday plans are not just about celebrating Lucas's milestone, but also being able to give back to an organisation who has stood beside them throughout their experience with childhood cancer.
"Our Family Support Coordinator came to see us in Starship when Lucas was first diagnosed, and came back every week with coffee and muffins for a chat," says Maree, "They were always there for us as a great adult ear to talk to who wasn't a medical person."
Maree really appreciated the practical support that Child Cancer Foundation provided their family with, including basic things such as groceries and petrol vouchers, as well as the emotional support from programmes such as Beads of Courage®.
"Lucas was always so invested and interested in his beads," says Maree, "He's going to bring them along to school on Wig Wednesday."
As for the head shave, Maree doesn't take getting rid of her hair lightly.
"I've had long hair my whole life, so this is a pretty big deal for me," she says. "I really want to make it a success and to be able to say thank you to an organisation who has helped my family immensely over the last three years."
Register for Wig Wednesday
Help us continue to support kids like Lucas by registering for Wig Wednesday.