Manaia's Story
In 2019 Manaia's life was changed forever when he found out he had cancer. He was only seven years old at the time.
My name is Manaia, and I'm one of Child Cancer Foundation's 'Stars' for 2023. I'm 11 years old and I'm from a small town called Seddon near Blenheim, Marlborough
Things started to go wrong at the start of 2019. I had constant headaches and was vomiting all the time, and my energy levels were dropping. I kept getting worse, so my mum took me to the doctor.
They sent us straight to A&E, where they found what looked like a tumour in the middle of my brain.
I was immediately put in a private jet (it was actually an air ambulance, but I like to pretend it was a private jet) and flown to Starship Hospital in Auckland so they could find out what kind of tumour it was.
I also had to have surgery to create an outlet to release the fluid that was building up in my brain. It was then that they told us the tumour was cancerous.
After that, they flew me down to Christchurch so I could do the rest of my treatment a bit closer to home. I went through almost eight months of chemotherapy and radiation therapy – some in Christchurch Hospital and some in Nelson Hospital.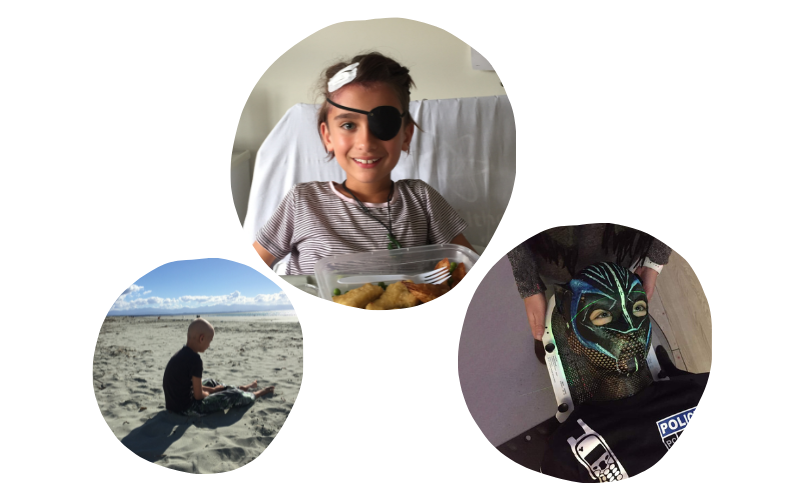 My mum had to quit her job to be with me full time, and most of the time my dad was at home in Blenheim with my little sister and brother, Tui and Taika. I really missed them.
Finding out I had cancer didn't feel real.
Having cancer felt like I had a spew bug, a cold and the flu all at the same time. The tumour in my brain gave me a lot of headaches, and I felt drowsy and sleepy pretty much all the time.
As soon as I got out of bed, I would just want to hop back in. I hated that because I was really energetic before I got cancer.
My tummy got sore a lot during chemotherapy, especially if I had eaten the wrong foods. Every time I had a smoothie when I was in hospital I would throw it back up, but I kept eating them because I liked smoothies so much!
One thing I really struggled with in hospital was the MRI scans, because the first time I had one I fell asleep during the scan, and when I woke up, I freaked out because I didn't know where I was. It was really traumatising.
Part of my treatment included 24 sessions of radiation therapy, which was similar to having an MRI. I would have to lie on a bed and a big machine would shoot x-ray beams into my brain to kill the tumour cells. They would clip a mask over my head so I couldn't move.
The play therapists at the hospital helped me paint my mask like my favourite superhero, Black Panther, which helped me feel braver.
The worst part of being in hospital was not being able to see my friends. Almost every night before bed I would FaceTime my friend Hugh, and we'd just talk to each other about our day.
My life has changed a lot since before I had cancer. I used to love playing rugby, but I wasn't allowed to play any contact sport when I was on treatment.
That made me really sad, and I've never gotten back into it. It's just one of those things that just hasn't been the same.
I also had heaps of trouble getting back to school. My immune system was low from the chemotherapy, so I was at high risk of getting really sick. I had to use my own bathroom and I wasn't allowed to be near the other kids, so I had to sit at the back of the class by myself.
Most of the time I just wanted to be at home with my mum and dad.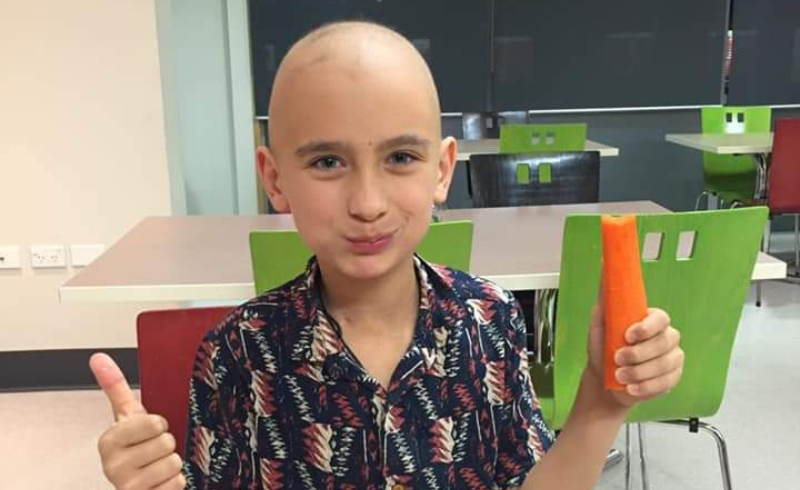 One of the permanent changes I have is mental fatigue, which makes school extra tiring. I started off just going in the morning and slowly progressed until I could last the whole day. Then I would have a rest day on Wednesdays so I would be able to manage the rest of the week.
It wasn't until the end of 2021 that I was able to start going to school full-time. I still get pretty tired at the end of term – I'll be learning how to manage being tired for the rest of my life.
All the radiation therapy I had damaged the gland in my brain which controls puberty, so I have more testosterone than most boys my age. That means I sometimes get more angry about some things.
have to get injections every three months to delay puberty, and I'll need to keep having them until I turn 13.
Child Cancer Foundation has been a massive support for me and my family since I was diagnosed. I have hundreds of Beads of Courage®, which represent all the treatment and procedures I've been through as well as all the times I've been brave.
One of my favourite beads is the purple heart I got when I finished my treatment and was told I was cancer-free. I also like the ones I got for the radiation therapy sessions because they glow in the dark.
After I finished treatment, my mum was worried that I was still traumatised from everything I'd been through, so Child Cancer Foundation found me a counsellor in Blenheim and covered the cost for the sessions.
My counsellor Melissa was awesome – Mum said I seemed more like myself even after just one session. Child Cancer also funded sessions for my mum to have counselling.
I am proud of representing Child Cancer Foundation because I want to help and inspire the other kids out there with cancer.
Doing charity work has become really important to me since going through cancer because it gives me a sense of purpose, like I'm doing something really special.
My advice to other kids going through cancer treatment is to make the most of having your friends and family at hospital, because sometimes you might not get to see them for a long time. Stay strong and don't give up.
Thank you so much for supporting kids like me who have cancer. My family and I are so grateful for everything you have done to help us through a really tough time.
Watch: Manaia's speech at Sparkle for Hope Gala Dinner & Ball 2023
,
Video credit: Tania Gates
Help us make a difference.
We can't do this without you.
Child Cancer Foundation provides support to Kiwi kids on their cancer journey. We need your help to provide the vital support to families. Please make a donation today.