Marcel's story
"I didn't even care that it was Christmas… All I wanted was for the tumour to be taken out."
On 21 December 2021, Mareva and Cameron Crowley's world fell apart when they were told their three-year-old son Marcel had cancer. Just as he should have been getting excited to unwrap his Christmas presents, Marcel was being flown to Starship for life-saving treatment.
Marcel went in for surgery on Christmas Eve to have a massive tumour including his kidney removed, leaving his nervous parents waiting over five hours for news. Finally they were told that most of the tumour had been removed, but Marcel would also need some radiotherapy and chemotherapy to treat the rest.
The family had to stay in hospital over Christmas, but they were just happy that Marcel was able to have the surgery. "To be honest, I didn't even care that it was Christmas," says Mareva.
"All I wanted was for the tumour to be taken out… I couldn't bear the thought of him living with it inside of him for another day."
In the rush to leave their home near Whanganui and get to hospital, the Crowley family had left all their Christmas presents at home. Luckily, Marcel's grandmother was able to join them in Auckland just in time for Christmas and stopped by their house to grab a few of the presents before flying up.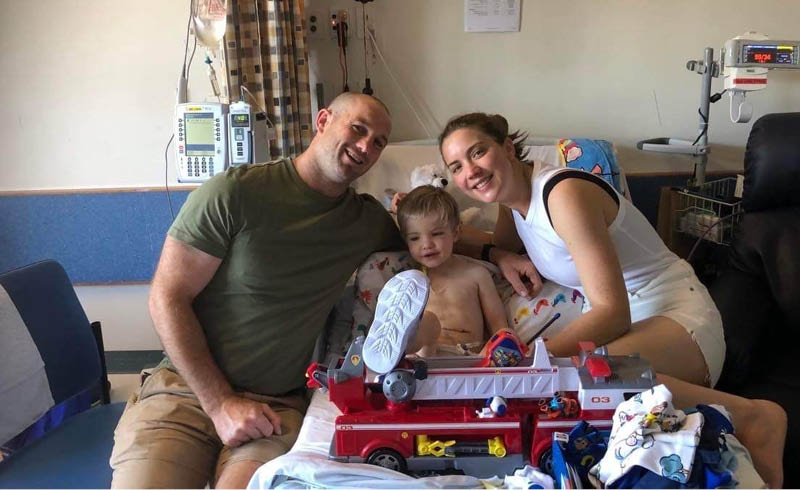 "That helped make the day somewhat special," says Mareva. "We ended up giving a few toys and presents to other kids on the ward who might not have had much otherwise. Child Cancer Foundation also organised some amazing food and presents for us all, which was just amazing.
"I guess our Christmas present as a family was to have had the tumour removed. We definitely hugged Marcel more tightly that day and cherished our little boy."
"The first few weeks are a bit of a blur to me, but I remember receiving a lot of phone calls from Child Cancer Foundation checking in on us and asking if we needed anything," says Mareva. "It was really lovely to know that we had the support there and just someone to talk to who understood what we were going through.
"Our family support coordinator Linda regularly comes and delivers Beads of Courage® for Marcel. It's such a special moment for him every time and it's great to see all the beads and accomplishments he has achieved".
To his parents' delight, Marcel is doing really well and is back to being "full of beans". He had his last session of chemotherapy in August and will now have three-monthly scans for the next two years. After living in isolation for nine months, his parents are excited for Marcel to be able to mingle again with family and his friends from day-care.
As for Christmas this year, the family still doesn't have any plans, with Mareva saying they are still just taking things one day at a time. Plus, they have something new to focus on… the family welcomed a new baby sister for Marcel at the start of October!
Please Join Us Today
Are you able to help families like Marcel's by making a donation today?
More than ever, we need your help to continue providing children and families with the specific support they need, for as long as they need it.