Caleb K's story
The cancer diagnosis that inspired Caleb's family to seize every opportunity
The family of four began seizing every opportunity for special family time after Caleb was diagnosed with cancer in 2016.
Dad, Scott, says that when Caleb came home after 16 months of treatment in Auckland, they decided to do more family things on the spur of the moment… including fulfilling Caleb's dream to ride an elephant, which was made possible thanks to the support of Huljich Foundation.
"Last year was a good year – both boys started school together and we travelled overseas, taking the kids to Disney World and a sanctuary where Caleb could ride his elephant! Plus any free time we get, we jump in the car, hitch the caravan and go on holiday," says Scott.

"We all love fishing, with the caravan we can leave home and be set up in a favourite spot within hours. It's a wonderful way to create precious memories."
Caleb was four-years-old when he started suffering from an ongoing sore tummy, nausea and just generally not feeling well.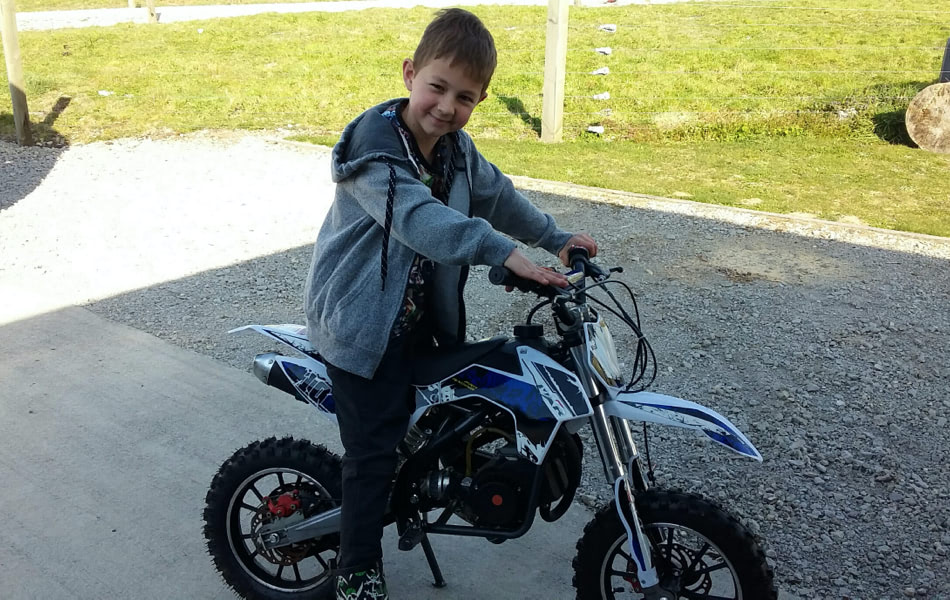 After repeated trips to the doctors and several blood tests, Caleb's parents took him to the local hospital for scans. Knowing that the bloods hadn't shown up anything disturbing, mum, Rachael, wasn't expecting anything too alarming.
You can imagine her shock when the ultra-sound showed an unknown mass in Caleb's abdomen.
From then on, everything went into fast forward. They headed to Auckland on a Sunday, which was the same weekend they were moving house, and on the Monday Caleb had a biopsy, then other tests and scans throughout the week. Then on the Friday of that same week doctors confirmed that Caleb had stage 4 Neuroblastoma.
A prognosis that would mean 16 months of intensive treatment, including six cycles of chemotherapy, tandem stem cell transplants, 12 rounds of radiation and five cycles of immunotherapy.
Caleb also bravely underwent a ten and a half hour surgery where surgeons removed 98% of the tumour that was wrapped around his aorta in his abdomen.
Throughout all of this Caleb was a real "trooper".
Rachael says they told Caleb that there was "something naughty in his tummy" and that the doctors and nurses were trying to get rid of it.
"To be honest, when the treatment first started Caleb was so unwell that he just wanted them to get on with it."
The couple reflect back on the days before Caleb's diagnosis and remember thinking how good life was – Scott and Rachael were planning their wedding, they had two healthy, happy boys and work was great as Scott had just got a promotion to a more senior role with the company he works for.
"Everything just changed so quickly with the devastating news. As the treatment went on you just felt that things couldn't get any worse than what had happened that day, and then the next day it did…that was us for the first six months. But we got through it."
Thankfully, Caleb kept his sense of humour throughout the many months of treatment he faced and would delight in tickling the nurses and trying to make people laugh.
Younger brother Izak, who was only three at the time, stayed with his grandma, a kindy teacher, and got to go to work with her. Rachael and Caleb lived in Auckland for the majority of the 16 months. While Scott had a lot of time off work to be with them at Starship, for the most part he would drive the 3.5 hour trip to Auckland with Izak on his rostered days off.
Throughout this time Rachael says they were so grateful for the support of family, friends, the local community and Scott's employers. "It was amazing how people rallied."
"The visits from our Family Support Coordinators in both Auckland and back home were also so welcome. They are people you trust and can rely on and Caleb loves his visits from Barb," she says.

"It was also so wonderful to be able to pop into the Auckland Family Place for a shower and do a load of washing. It's the little things that can make such a difference."
The couple was also very grateful for the travel and grocery assistance, which helped make the long-return trips from Reporoa to Auckland and additional food purchases a bit more bearable on the pocket.
This year, on a routine check-up, scans showed Caleb had relapsed. The brave now seven-year-old has taken it in his stride and already had his Hickman line reinserted. And has finished his first cycle of relapse therapy.
"We know how gutsy Caleb is. While he has fond memories of his time at Starship, he doesn't want to be sick so will be brave and do his best to fight it."
Please join us today
Are you able to help families like Caleb's by making a donation?
More than ever, we need your help to continue providing children and families with the specific support they need, for as long as they need it.