Isabella's story: Part 2
The courageous five-year-old who has defied all odds
If you've been supporting Child Cancer Foundation for a while, you might remember these heart-wrenching images of Isabella Dawson, sitting with her cake and balloons on her first birthday with patchy hair and a feeding tube in her nose.
These photos are a touching reminder of Isabella's distressing first year of life, as she barely left Starship Hospital after starting chemotherapy at just two days old. Isabella had recently relapsed when these photos were taken and, despite experimental medicine initially helping keep her leukaemia at bay, the treasured one-year-old was facing a bleak prognosis. But incredibly, after a second bone marrow transplant and suffering from multiple organ failure, Isabella turned a corner. The Dawson family were finally able to take their little miracle home four months later.
That was back in 2016. Fast-forward to today and Isabella is a delightful, caring and energetic five-year-old who makes her mum Cindy proud every day. "Her development is very delayed due to long hospital stays as a baby and going through full-body radiation therapy and chemotherapy so young," says Cindy, "but she's just started four days a week at kindy and she's doing really well."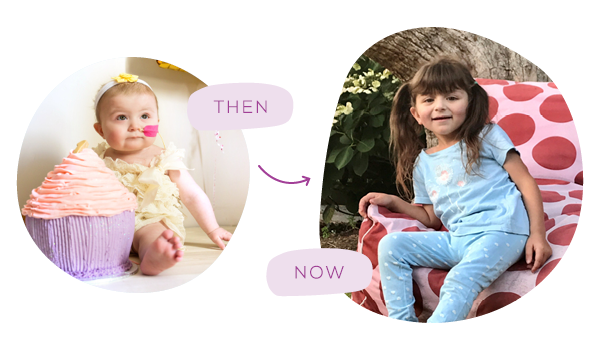 Although she has been cancer free for nearly three years, Isabella and her family's journey has been unimaginably tough since finishing treatment. Isabella's growth was severely impacted by the radiation therapy, so she has to take an injection of growth hormones every night. Happily, Cindy says the hormones have really started working in the last few months. After years of barely any growth, little Isabella is finally getting taller.
Because her development has been so delayed, Isabella still isn't talking. Instead, she can very cleverly communicate through hand gestures and sounds, and has recently started to say a few words – Cindy is very excited that "mum" is one of them! Learning support and speech therapy have helped Isabella make progress, but it still concerns Cindy that Isabella can't easily tell her if she's uncomfortable or in pain.
Another concern about Isabella's health has been that her platelets are still recovering after her second bone marrow transplant as a baby. This means her blood doesn't clot as well at it would for most people, putting her at higher risk of internal bleeding. "This is what I struggle with most," says Cindy, "knowing that if she falls over she might look okay on the outside but be bleeding on the inside. It's a constant fear."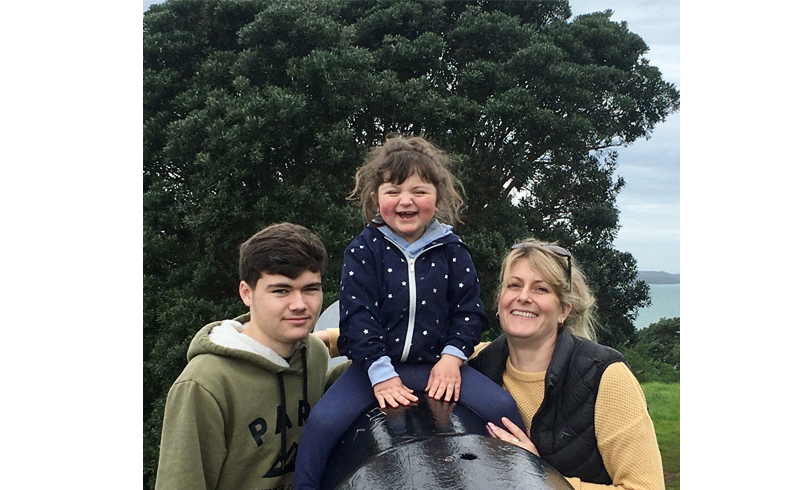 Because of Isabella's complex healthcare needs, Cindy has been by her side nearly every single day for the last five years. She hasn't been able to work since Isabella was born, something which most Kiwi adults take for granted as a normal part of life. "Childhood cancer changes your whole life," Cindy says. "Day-to-day living is really hard, with late effects, hospital appointments and worrying about bacteria all constantly weighing on my mind." Isabella's 16-year-old brother Mannix has been through it all with them too, with the ongoing effects impacting the whole family.
Sadly, Isabella and her family are not alone in experiencing late effects from childhood cancer treatment. In fact, for many people who have cancer as a child, the impact that the treatment has on their young bodies can be significant and long-lasting. Many might not know how they will be affected until years later, something which Cindy tries not to let worry her. "I try not to plan too far ahead – it's more about being in the moment for Bella," she says.
Throughout the ups and downs of her treatment, Child Cancer Foundation was there for Isabella and her family, providing essential emotional and financial support to Cindy and Mannix at a time when they needed it most. Their Family Support Coordinators, Laura and Mary, became hugely important people in their lives, providing the Dawson family with the specific help they needed, every step of the way.
Since Isabella has been off active treatment for cancer, an important support network for Cindy has been her local Connect Group, where she has made life-long friends with other families going through the childhood cancer experience. "The Connect Group families love to see Isabella because she gives them so much hope," says Cindy. "For her to have come through against all odds and be doing so well helps them stay optimistic about their own journey."
All of the support Cindy has received from Child Cancer Foundation has been crucial to helping her feel less alone in a reality which so many people can't understand. "One thing that I have taken out of our experience with childhood cancer is realising that there are so many amazing people and networks out there to support you, like Child Cancer Foundation," she says.
Despite all the challenges they have faced, Cindy's positivity is infectious, saying: "As long as she's cancer free, I'm happy!" The Dawson family have something new to keep them occupied too: a little Airedale puppy called Cowie. Isabella absolutely adores animals, so the pair are set to be best friends for life.