Mason's story
A late night knock on the door that turned an Auckland family's world upside down
A recurring fever attributed to a harmless childhood virus led to a late night knock on the door from emergency services that would turn a young family's world upside down.
On a long weekend in October 2016, two-year-old Mason Millan woke up with a high fever. Concerned, his parents, Ivan and Victoria, took him to A&E where he was diagnosed with a common virus and sent home with a script for Pamol.
A few days later and seemingly recovered, Mason headed back to daycare, but within 48 hours the fever returned. Once again Ivan and Victoria sought medical advice, taking their son to a doctor who also attributed Mason's fever to a virus.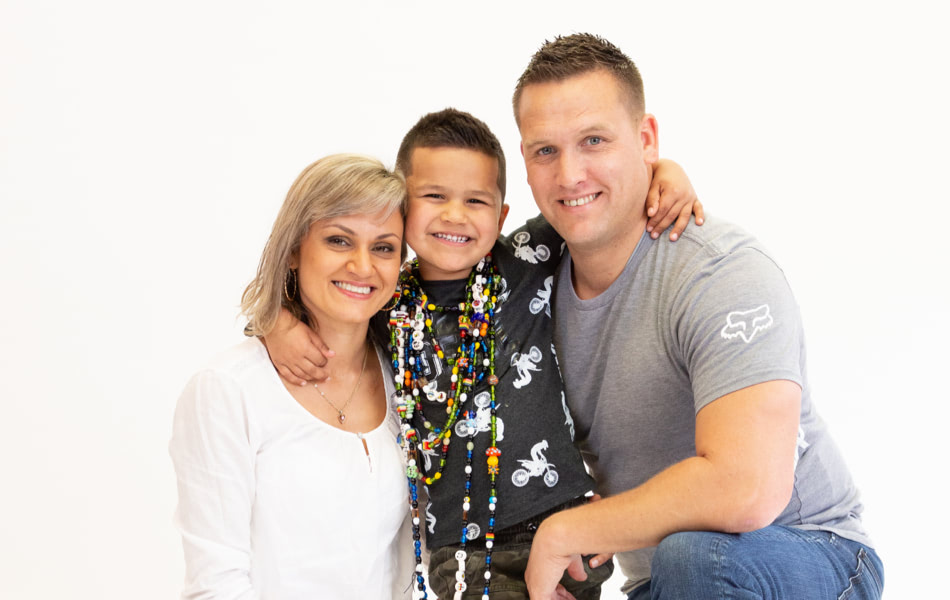 This cycle continued for several weeks with Mason appearing to recover only to have the fever return the next day. Despite being seen by multiple doctors and undergoing observation at a local emergency department, no one suspected anything sinister as Mason seemed generally well and happy during these visits.
When Mason became increasingly lethargic and started to develop bruises on his legs, his GP ordered throat swabs and stool samples. The tests came back clear, but Mason's parents were becoming increasingly alarmed and asked for a blood test. The family were told they would be contacted in a couple of days with the results.
That night, Mason was back to his usual active and cheery self. Relieved and believing their son was on the mend, Mason's parents put him to bed and settled in for the evening.
At 11pm that night, Ivan and Victoria were startled by a knock on the door. The shocked couple found two police officers and an ambulance outside, sent to inform them that their son's blood counts were dangerously low and he needed to go to Starship Hospital immediately.
Mason appeared alert and well enough to be driven to the hospital by his parents so they quickly packed an overnight bag and headed into the city. The frightened two year old was admitted to hospital and given a blood transfusion within minutes of arriving, but within 48 hours his condition deteriorated.
Victoria will never forget how her son looked at that moment, the dark bruises under his eyes and the paleness of his skin.
Mason underwent a number of tests including a bone marrow aspiration.
"The hardest part was waiting for the results," says Victoria.
In early November, Mason was diagnosed with standard-risk B-cell Acute Lymphoblastic Leukaemia (ALL).
"It was a massive shock," says Ivan. "One month we had an energetic, healthy little boy. The next, he was incredibly sick in hospital. When you hear a diagnosis of cancer you fear the worst. Thankfully, the doctors reassured us that there was a treatment plan in place and he had a good chance of recovering."
Over the next week, Mason received his first rounds of intensive chemotherapy before being discharged.
"It was like bringing a new-born home for the first time," recalls Victoria. "Mason's immune system was severely compromised by the cancer and the chemo so we had to be so careful with everything he did. It was daunting and scary at the same time."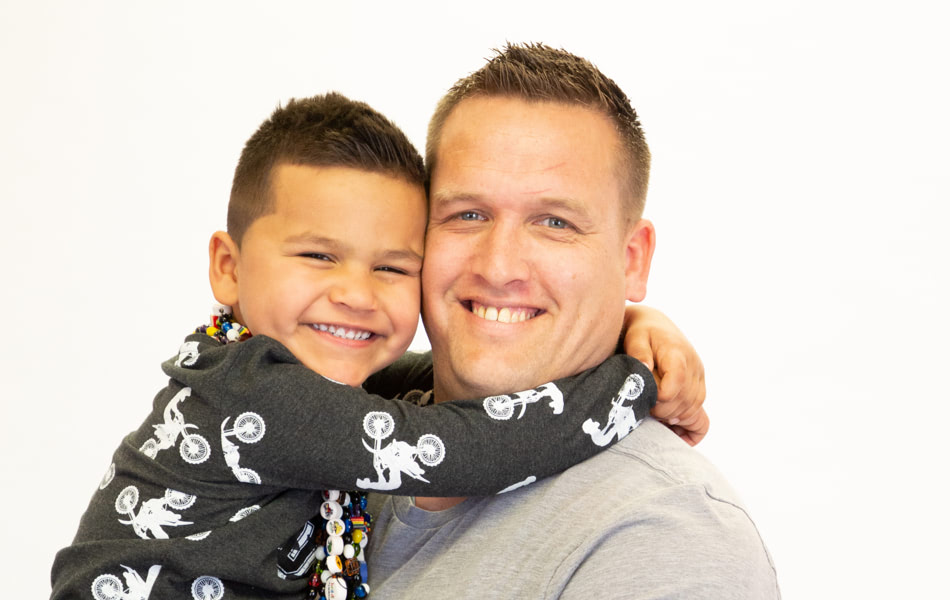 After 28 days of chemotherapy, Mason achieved remission. He continued to make good progress, so after two months at home his parents decided to send their very sociable and active son to a home-based educator while they both returned to work. With only one other boy in care with him and an educator who was very mindful of his health, Mason remained well during the most intensive phases of his treatment.
"It was like a second home", says Victoria.
Thanks to the incredible support of their family, friends and colleagues, Mason's parents have both been able to continue working since then. Victoria is in advertising and Ivan is a firefighter, and both have been able to juggle work commitments to take Mason to his appointments. Ivan's fellow firefighters volunteered to cover his shifts for the first two months so that he could be by Mason's and Victoria's sides, and Victoria's employer has been incredibly supportive when she's needed time off work.
In July 2017, eight months after his diagnosis, Mason started the maintenance phase of his treatment and was able to return to his old daycare so he could be back with his friends. His parents continued to monitor his immune system and they worked closely with his daycare to manage any risks.
Mason stayed relatively well throughout most of his treatment, but contracted Chicken Pox during the summer holidays. With his immune system struggling to fight the virus, Mason developed pneumonia and spent two weeks in Starship Hospital.
His parents describe how traumatic the experience was.
"Mason was the sickest we've ever seen. He couldn't talk and lost his appetite. He had a temperature over 40 degrees for ten days and lost a lot of weight. We thought we might lose him this time."
At one point, the doctors indicated they might need to insert a feeding tube. In a bid to avoid the tube and get Mason eating again, his dad made a deal with him. Ivan promised his son that if he started eating and got better, he would take Mason and his two best friends to Rainbow's End.
Suitably motivated, Mason made a concerted effort to start eating and drinking again. He quickly recovered and was able to go home with his parents in time for Christmas. Not long after, when Mason was well enough, Ivan made good on his promise and took a delighted Mason and his friends to Rainbow's End.
Fortunately for Mason and his family, he remained stable throughout his treatment. However, Mason still endured some of the issues typically associated with ALL. The normally sociable little boy had to be isolated when his neutrophil count was low, which are white blood cells that protect his body from infections. On one occasion Mason got a port infection and it had to be replaced. He also suffered from foot drop, but bike riding and swimming has helped keep this side effect of his treatment manageable.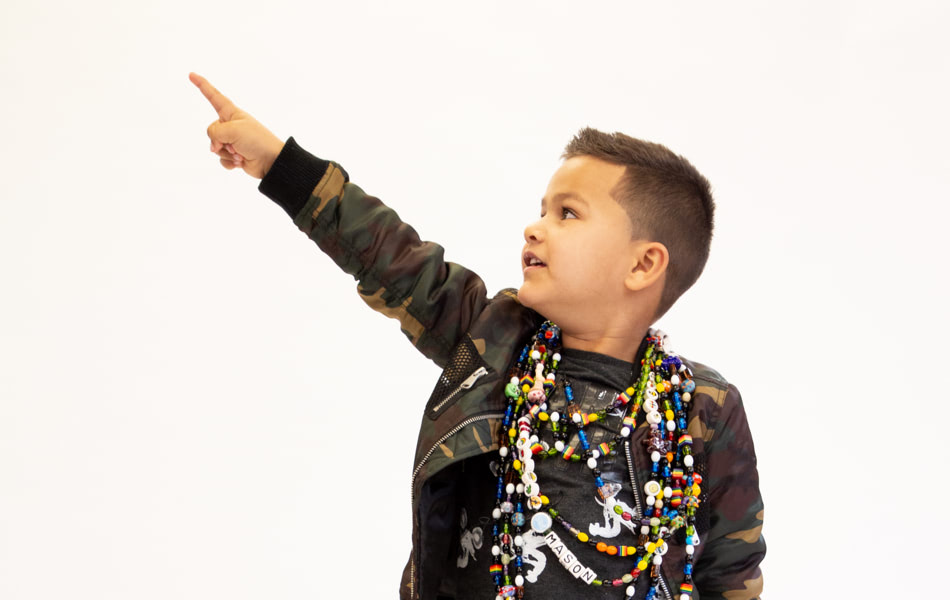 Mason's mum says 'steroid week' is the hardest.
"It affects his mood and his energy. He can fly into rages and doesn't understand why he can't control his emotions. He craves food like hot chips, sausages and potato sticks at all hours of the day and night. He gains lots of weight, which then drops off as soon as the steroids stop. It's getting slightly easier as he gets older, but we still dread it."
Throughout his treatment, Mason and his family were well supported by Child Cancer Foundation. They enjoyed regular visits from his Family Support Coordinator and Mason has received almost 600 Beads of Courage® for the treatments and procedures he's had.
Not long after he was diagnosed, the Foundation gave the family a wellness pack containing some of the essentials they'd need during the long hours spent in hospital. They were also given a Christmas hamper to help make the holiday period a bit more festive. The Auckland Family Place has become a home away from home when Mason is having treatments in the hospital and the family have enjoyed connecting with other families like theirs at events arranged by the Foundation including movie nights, parents' events and Christmas parties.
In July 2019, Mason turned five-years-old and started school. He began playing junior ripper rugby for the Massey Rugby Football Club and loves hanging out with his dog, Thor. Ivan and Victoria are grateful that they have been able to keep his childhood as normal as possible and will continue to do so for as long as Mason's health allows. Mason's treatment was due to be completed in January 2020.
"It's so inspiring how he faces his treatment. One thing's for sure, I'm going to have one crazy story to tell at Mason's 21st."
– Ivan, Mason's dad
Please join us today
Are you able to help families like Mason's by making a donation?
More than ever, we need your help to continue providing children and families with the specific support they need, for as long as they need it.