Sydnee's story
How a four-year-old's bubbly personality helped her family get through the challenges of cancer
In February 2017, Amanda Clifford was on a cruise with her sister and parents celebrating her mum's 75th birthday when she received the news that her four-year-old daughter Sydnee was sick. Sydnee, who had developed a low-grade temperature not long after Amanda left for her Melbourne-bound cruise, was given some Panadol by her dad Brendon, but she didn't come right.
Concerned, Brendon took Sydnee to the doctor, who performed some tests and detected stress on Sydnee's liver. She was referred to Starship Children's Hospital for further blood tests, where Brendon was told it might be leukaemia. Brendon updated Amanda in shock, but the worried mum had to endure a stressful wait for the cruise to dock in Melbourne before she could fly back to Auckland.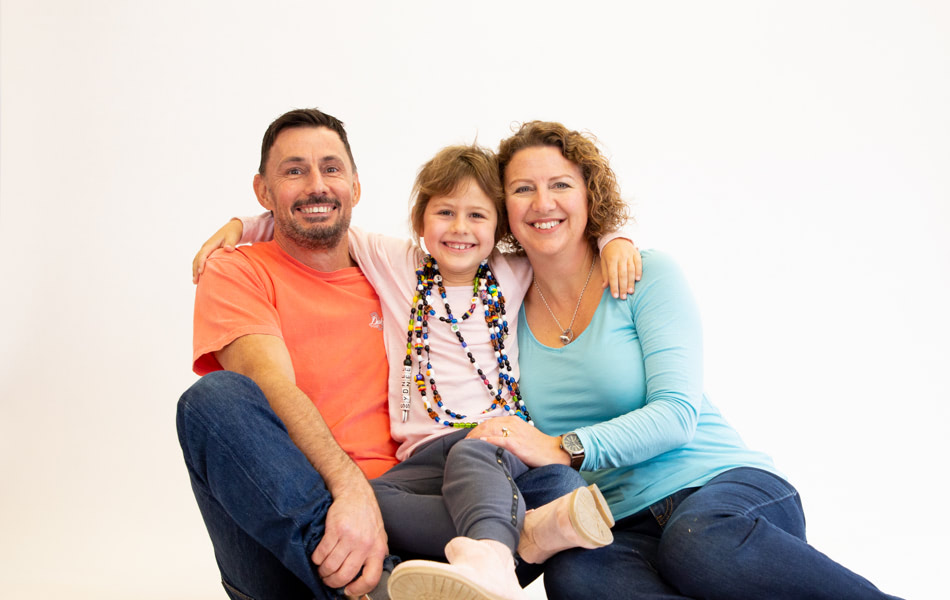 Amanda arrived back from Melbourne as Sydnee, with her dad by her side, was admitted to Starship for more tests. The initial bone marrow result was not conclusive, so she was discharged at lunchtime with a suspected virus.
With a huge sense of relief, the family started packing their belongings into the car in the hospital parking lot. However, that relief was quickly extinguished when their doctor came over to tell them that newly-released tests showed potential signs of leukaemia. The stunned family had to unpack their belongings again and head back up to Starship.
Over ten anxiety-filled days, Sydnee was poked and prodded at the hospital during additional tests, which included x-rays, a lumbar puncture and a repeat bone biopsy. The Cliffords' worst fears were confirmed when Sydnee was diagnosed with Acute Lymphoblastic Leukaemia (ALL).
"It was a real rollercoaster," Amanda says. "Sydnee had been healthy and happy, and then suddenly she was really sick. After all the tests and confusion regarding her condition, it was in a way, a relief to finally know what was wrong with her."
Life for the family changed overnight. However, the doctors were quick to reassure the worried family that ALL is one of the most common cancers and has a high survival rate. Sydnee's treatment was highly structured and she began receiving chemotherapy almost immediately.
After an initial ten days of treatment at Starship, Sydnee was sent home, but she wasn't well enough to go back to daycare. Amanda, a pilot, and Brendon, a Project Manager and Engineer at Southern Cross, had to make a difficult decision regarding whether or not they would both be able to keep working. With the help of a nanny, they managed to continue working full-time around each other's hours. As well as reducing financial strain during Sydnee's treatment, this decision meant the family could retain a welcome sense of normality.
Sydnee's treatment regime spanned a challenging two and a quarter years. She was due to start school in July 2017, but her weakened immune system meant her parents had to keep her at home. To ensure her mental wellbeing didn't suffer, Amanda and Brendon arranged weekly visits with close friends when Sydnee was well enough to see them. Amanda also kept in touch with Sydnee's teacher once a week and organised government-paid home-schooling sessions so she didn't fall behind.
Fortunately, Sydnee was able to get through her treatment without any major medical setbacks, aside from the usual difficulties. As is the case with most children on treatment, Sydnee lost her hair. She had to stay in hospital overnight once at short-notice, and went to the emergency room a handful of times as a result of a high temperature and suspected chickenpox. At one point, she struggled with painful mouth ulcers after chemotherapy, which meant she couldn't eat and had to be given morphine.
"Overall, we were relatively lucky," says Amanda. "We saw how other families struggled with so many other issues. Sydnee responded really well to her treatment. Her bubbly personality and the fact that we had such amazing friends and family and the support of Child Cancer Foundation helped us through the rough patches."
In November 2017, Sydnee was well enough to start school. Many of her friends from daycare were in her class so she settled in quickly. Sydnee recently received her purple heart bead, a very special moment which signified the end of her treatment and hopefully the end of her and her family's ordeal with cancer.
Please join us today
Are you able to help families like Sydnee's by making a donation?
More than ever, we need your help to continue providing children and families with the specific support they need, for as long as they need it.