The Kupa family's lockdown story
Life in lockdown is nothing new for children with cancer
The biggest changes actually came when Caleb was diagnosed with stage 4 Neuroblastoma in 2016 when he was four years old.  It was a diagnosis that meant 16 months of intensive treatment, including six cycles of chemotherapy, tandem stem cell transplants, 12 rounds of radiation and five cycles of immunotherapy.
For the rest of us, we are very fortunate that one day, when restrictions are lifted, normal life will begin again. Caleb's family, however, will need to continue following strict practices and being more selective than ever of who they let into their bubble.
We spoke to Caleb's parents, Scott Kupa and Rachael Murfitt, during New Zealand's level 4 lockdown and asked the family a few questions about how they were getting on with life in their bubble.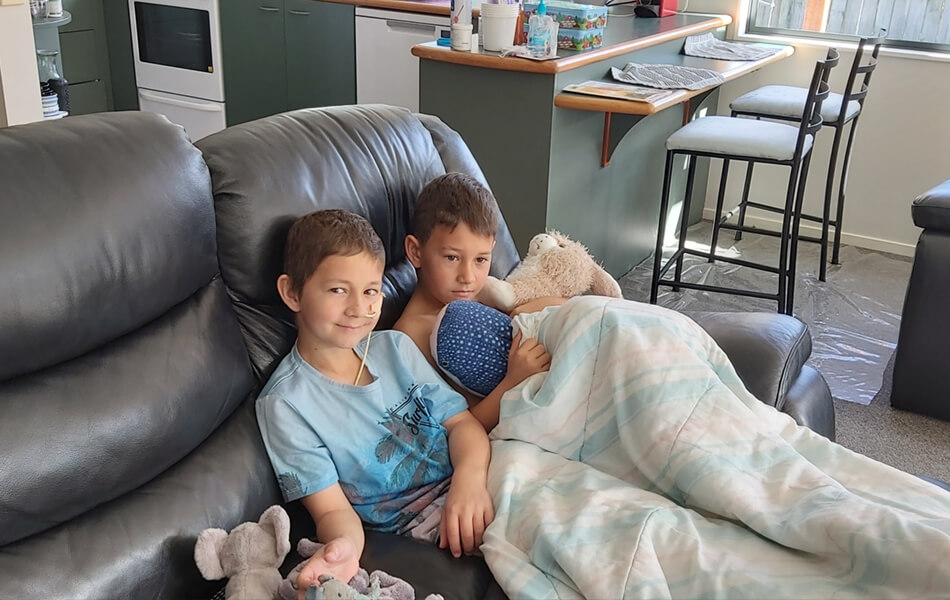 What has it been like for your family living in isolation or lockdown? Is this something you're already familiar with?

Life for our family hasn't changed too much with the Covid-19 lockdown, we have pretty much been living in our own bubble for the best part of the last 4 years. The main difference at the moment is that both the boys are off school and we can't have any visitors at all, where as in the past we would just be extremely selective as to who is around our family.Since Caleb's cancer diagnosis our lives have changed in so many ways, we now live every single day with uncertainty about our future, we went from having an almost perfect life living in Taupo to Caleb being diagnosed with cancer.Straight away he had to start treatment up in Auckland which meant that for the first two years of Caleb's treatment, our other son Izak would spend most of his time living with my mother in Hamilton. I continued working full time in Taupo and would head to Auckland on my days off, as well as any extra time off when needed. Rachael and Caleb would mostly be in Auckland for Caleb's treatment.

Without a doubt that first 2 years was the hardest time of our lives. It brings a tear to my eye to think about it. Caleb was unable to start school, our family was apart and Caleb was going through one of the most aggressive cancer treatments that there is, for any form of cancer. He was taken away from everything he knew and thrust into a world that would be any parent's worst nightmare. Because he was so vulnerable through treatment our family was, for the most part, in isolation so we could protect Caleb. If Caleb caught any bugs or the flu for example, when he was neutropenic that could have been life threatening for him and would always end with having to spend more time in hospital. Treatment would then be delayed until he had recovered.Being an oncology family is so hard to put into words and I think only other oncology families truly understand how hard it is. People that you thought would be there for you just don't get it and are no help at all. Then people that you don't expect to be there turn out to be amazing and understanding.
What have been some of your biggest learnings of being in lockdown, good and bad?

We look at life a lot differently now, we always make more effort to do things with the kids and as a family. We learnt that we have everything we need at home and there's no need to be out and about every day. We've learnt how resilient our family is and that as long as there's love and happiness in our home, we can get through anything. We've learnt that plans can change all the time and to just go with the flow and try not to stress too much about challenges you know are coming in the future. Just focus on doing your best day by day. Stay focused and try not to let your emotions take over, it's important to do that in order to make good decisions. We've learnt that there are still so many amazing people in this world that truly understand and want to do whatever they can to help.In regards to the bad, I've learnt that a huge number of people will never understand how hard it is for us to keep Caleb safe. At times there's a bit more bickering in the household because we can't get out and have our own time out.
What are some of the things you miss the most, and some of the things you're most grateful for?

Some of the things we miss the most are going swimming, going to the park with the kids, having the kids friends coming to play and going to school. For me and Rachael we miss having our own time out whether that be going to the gym or for a coffee with friends.We are most grateful for being all together as a family and being at a part of our journey that Caleb is off treatment. We are all home and not travelling to Starship and not having to be around hospitals.We are grateful for all the amazing people that we've met and that have been there for us along the way. We are super grateful for the amazing medical team around Caleb both at home in Taupo and at Starship. We are extremely grateful for all the support from Child Cancer Foundation who have helped us in so many ways over the past 4 years. We are grateful for all the amazing life experiences that we have had along the way.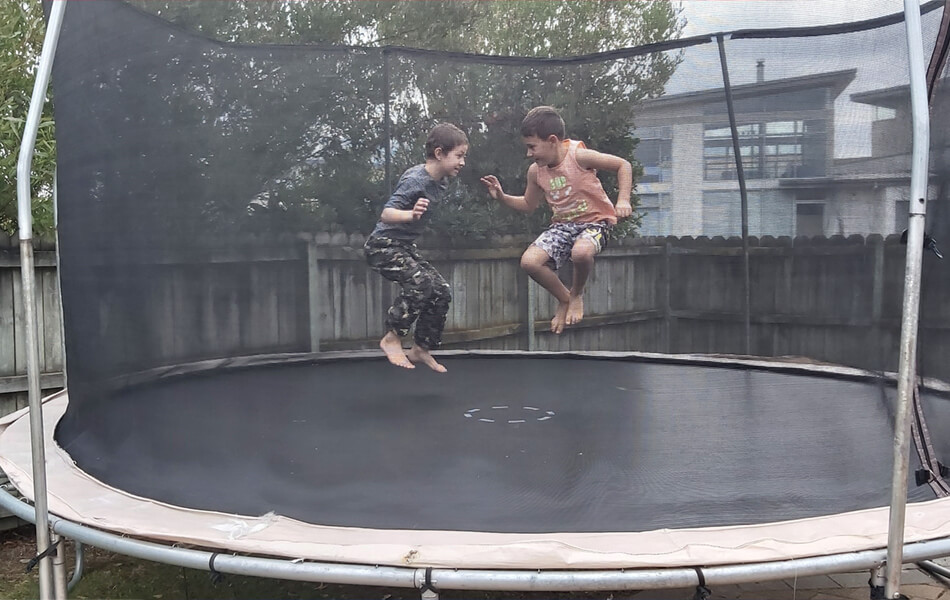 What advice can you share with the rest of New Zealand who are adjusting to this way of life for the first time as we go through lockdown?


Enjoy the quality family time together because quality family time is so so special.
Try and keep some sort of routine.
Try not to look to far ahead but at the same time plan for all scenarios.
Take the advice from the medical professionals and do what needs to be done to keep your family and your community safe.
Reach out to our vulnerable / immune-compromised friends or family and be there for them because no doubt the current situation with Covid-19 comes with heightened stress levels for those most at risk.
At home, pick your battles because this is a unique situation and the boundaries slightly shift a little, don't worry/stress about the small things.
Eating well and regular exercise is also really important.
Last but not least, try to smile and don't forget to have a bit of fun!
Are there any extra precautions you are taking in light of Covid-19?

We are not going anywhere at the moment, not even to the supermarket. If we had to go anywhere or touch anything at the moment we would have on gloves and a mask, no matter where we had to go. We are just following the advice from the Government and medical professionals as to what we can and can't do at the moment.Most of the other precautions we have already been doing for a long time. Good hand washing practices, screening everyone that we come into contact with and if anyone is or has been unwell they can't come into our home – no exceptions for anyone.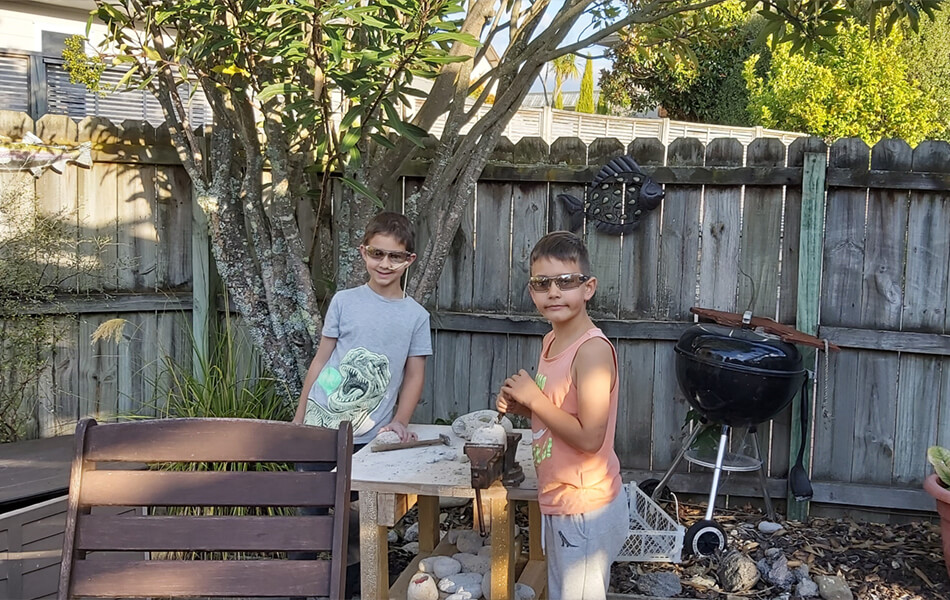 Are there are new challenges that have presented themselves?

Having both boys full time at home and trying to keep them doing school work is challenging but we are doing our best. Being able to get groceries has definitely been a challenge because we are not going to the supermarket while there is a pandemic. Luckily Countdown has introduced a priority assistance for online shopping which they approved us for in a timely fashion. So that has helped us to secure time slops for delivery but still it remains a challenge.If Caleb becomes unwell, as always it is difficult having him in hospital but with the current situation, there is heightened risk for him to be anywhere near a hospital. Touch wood at the moment he continues to be well and we are all at home.Keeping everyone active has also been challenging. People in the community that don't stick to the rules is a major risk for everyone especially the immune-compromised. So that is a huge challenge at so many levels.I've already been off work since Caleb's relapse so from an employment perspective things haven't changed for us.
We understand that cancer doesn't stop for a pandemic. Are there any appointments Caleb needs to attend during this time in lockdown? If so, are there any extra precautions or things being done differently? For example only one parent attending?

Caleb had an appointment on the Tuesday a day before the lockdown started, it was a specialist Dentist appointment at Greenlane in Auckland we had waited for a very long time to get that appointment and it was cancelled. To be honest we were happy it was cancelled because we didn't want to take Caleb anywhere near the hospital given the current situation, I'm sure in time it will be rescheduled. He also is booked in for scans at Starship in mid-May so not sure how that's going to play out yet but will wait and see.We are only allowed one parent up at Starship at the moment which is a bit of a worry because we always go up there as a family, but we respect the decisions that the oncology team are making in order to keep our children safe and we are happy to do our bit where needed. If Caleb's scans in May reveal bad news that will mean a whole heap of challenges and with the Covid-19 situation that will just add another layer of Challenges we are faced with.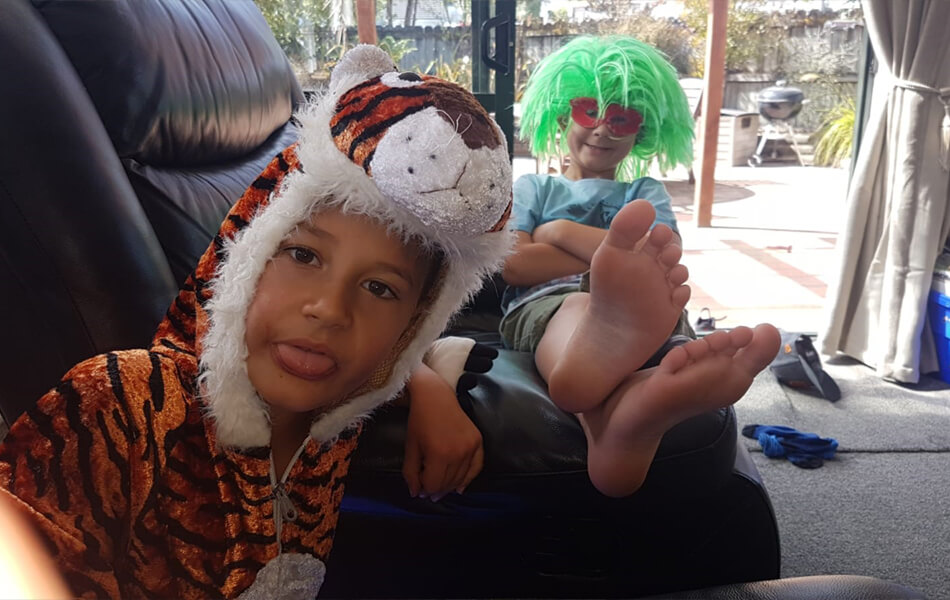 Has Caleb asked many questions about what is happening with COVID-19?

Caleb hasn't asked to many questions about Covid-19 , he has asked about the lockdown and we've just kept it simple saying that there's a nasty virus that is going around and we need for everyone to help stop the spread so that is why we are staying home.We try hard to protect our children from all the stress and worry that us as parents are faced with in regards to Caleb having cancer and how at risk he is at due to the pandemic. Our focus is allowing them to be kids, keeping them smiling and busy and making sure that they are loved and have everything they need to thrive. Our home is our safe place and all we want our boys to do is have fun and be happy.
Mental wellbeing for Caleb and your family would be so important during this time, do you have any tips or examples of things you are doing to try and keep spirits high?

The mental wellbeing of Caleb and our family is in really good shape. My advice is similar to above, protect them from the stress and weight of what is happening. Turn this situation that is definitely not the normal into the new normal. Use this time to create special memories.Some of the things we are doing to keep spirits high is every day we have trampoline time, which the boys just absolutely love. I get on the tramp with them and play they just love it so much!! We do things with them that they enjoy like playing Lego, playing board games or card games.

Once a day we go for a walk or bike ride, we are lucky we live close to Lake Taupo so our daily exercise takes us down to the lake cycle/walking path.The other night we had a small fire in our webber bbq so the boys could toast marshmallows. I've also made the boys a work bench outside and got some of my old tools out which they are using to carve pumice into bowls and candle holders or just whatever they want to make. They love using the tools and being creative and it's also good practical learning for them. The pumice we just get from down by the lake as needed on our daily walk. Both the boys have done some baking with Rachael which they also really enjoy.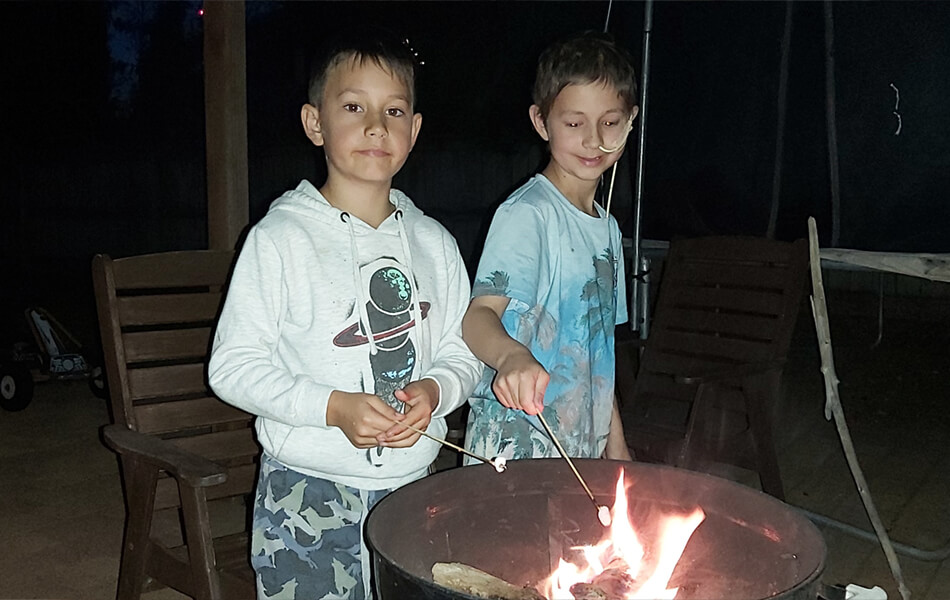 How have you felt supported by Child Cancer Foundation?

Child Cancer Foundation has helped us in so many ways. Our first interaction was with a family support coordinator when Caleb was first diagnosed, Barbara Richardson has been there for us always and she is someone who we trust to talk to about anything.Child Cancer Foundation has helped us with groceries while I've been off work for the past year, they've helped us with petrol vouchers because of all our travel to and from Starship in Auckland. They have helped with funding for Caleb with the personal development grant which has been used for swim lessons. They have helped with a grant from the Huljich foundation which we put towards Caleb achieving his dream of riding an elephant .Recently the Child Cancer Foundation helped us to go on a family holiday in the South Island which has come after a full year of Caleb having relapse cancer treatment in Auckland. It was just what our family needed to recharge after a really stressful and difficult year.

Both Rachael and I have gone on individual mothers and fathers retreats arranged by Child Cancer Foundation with other parents which we both found to be really valuable. The foundation also put on family fun days and family Christmas functions which are always fun and focused on the kids having fun. When we transitioned Caleb back into School our Family Support Coordinator Barb, helped us with that and even came to a meeting at school to support us at that time. To be honest the thing we appreciate most is Barbs visits at our home which would normally be at least once every 2 weeks. The Child Cancer Foundation Family room in Auckland has been amazing for us, Chris at the front desk is someone that has been there for us. The family room is somewhere we can have a shower do a load of washing and just have a coffee and time out in a safe environment. On ward 27b, Child Cancer Foundation have a freezer with frozen meals available for parents which has always been much appreciated. At times on the ward things get really hard so just having a meal available is a huge help. They also have a parent connect group/afternoon tea on the ward once a week which is always a good opportunity to have a break and meet other parents.
How You Can Help
If you would like to help families like Caleb's please make a donation today.
Every cent you donate is deeply appreciated and making a huge impact. We couldn't do it without you!