Ayden's Story
How an exciting holiday to New Zealand ended in tragedy for this Dutch/Australian family
When Joyce and Jarrod Bezzina decided to take their kids on the adventure of a lifetime in 2019, they had no idea that it was going to end in heartbreak. After spending seven weeks travelling with four-year-old Emma and one-year-old Ayden through Thailand, Japan and Singapore, the Dutch/Australian family's journey was cut short in New Zealand when Ayden suddenly became very sick.
The day after celebrating Ayden's second birthday in Rotorua, his worried parents took him to the A&E, a trip which will be engraved in their minds forever. They were told that Ayden was suspected to have a large tumour in his chest, so he and Joyce were flown to Starship in a helicopter while Jarrod and Emma drove back to Auckland in their campervan. Once they arrived, more tests confirmed that Ayden had high-risk neuroblastoma, and he began chemotherapy the same week.
"It was like we were living a bad dream that we just could not wake up from," says Joyce. "The bad news just kept on coming."
This was the beginning of two incredibly stressful weeks for the Bezzina family, who were in the unimaginable situation of having a sick child while being so far from home, with just three suitcases between them. Soon after Ayden was diagnosed some of their family flew over to support them, especially by taking care of Emma. Joyce and Jarrod alternated nights staying with Ayden in hospital, bringing Emma in at least once a day to help brighten his spirits.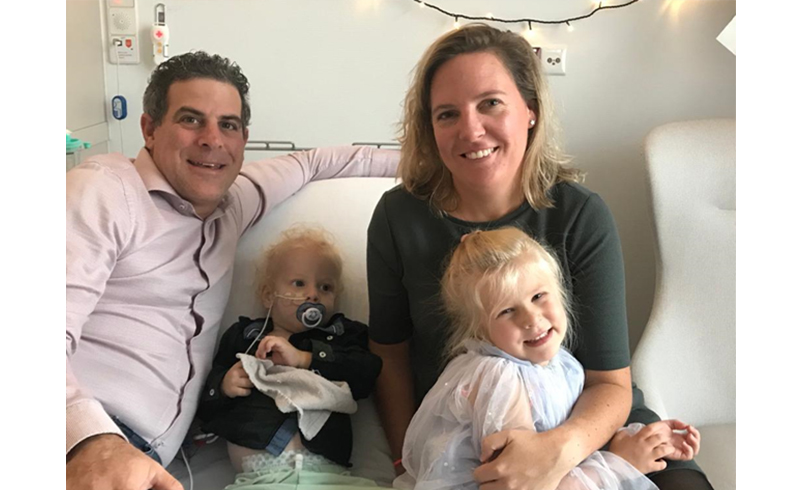 For the shattered parents, it became a matter of just getting through each day. "All we did was try to stay on our feet and be strong for the kids, but at the same time it was like we were living someone else's life," says Joyce.
During the two weeks that Ayden was being treated in Starship, Child Cancer Foundation's support was focused around helping the Bezzinas stay in control of their lives and bring perspective to their situation. "Everything went so fast, so it was very soothing to get some advice, talk and involvement from someone outside the hospital," says Joyce. "Practical things that helped us might seem so little for someone else but meant the world to us."
In mid-December, Ayden was given the all-clear to travel home, so the family packed up their things and were on a flight back to The Netherlands by the end of that day. He was immediately transferred to a paediatric oncology centre in Utrecht, where he received six more courses of chemotherapy over six months. He seemed to be doing really well, and loved playing outdoors and inside with his trains, cars and Paw Patrol.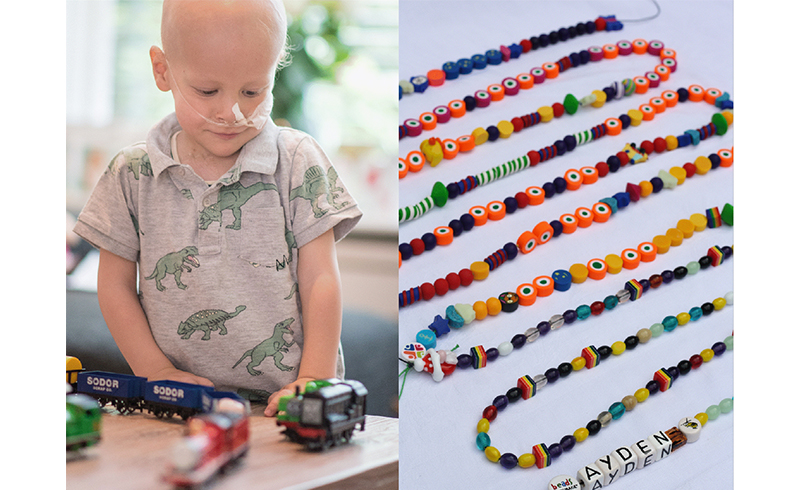 However, in June that hope was to be shattered when they found out that the neuroblastoma had exploded throughout Ayden's body. With his loving family surrounding him, Ayden passed away on 1 July, 2020.
Joyce, Jarrod and Emma are grateful to have be able to have three amazing last weeks with Ayden, where he could enjoy trips to the zoo, the beach, and even a visit from the local fire brigade. Joyce says they all miss Ayden's cuddly affection and seeing a lovely relationship grow between him and his sister. "The bond they had was so incredibly strong and made us very proud parents. We miss his presence in the house every day, his laugh, his joy and his love."
In the months since Ayden passed away, Joyce says that they have learned a lot about how fragile life is, and that you should never take it for granted.
"We also learned to never postpone any dreams; our world trip with our family could not have had better timing," she says. "Spending so much quality time together before this tragedy gives us a lot of happy memories to look back on."
The Beads of Courage® programme has been a hugely important factor in helping the Bezzina family cope with their experience. While they were in New Zealand, their Family Support Coordinator, Stephanie, talked them through each bead to help them understand just how much Ayden had been through. "I will never forget the moment Stephanie introduced to us the Beads of Courage®," says Joyce. "They mean so much to us."
The beads that Ayden collected, both in New Zealand and the Netherlands, will always serve as a beautiful reminder of the strength and courage he showed until the very end.
BEADS OF COURAGE® is a federally registered trademark of Beads of Courage Inc. and is used under licence. We are proud to provide the BEADS OF COURAGE® program, which is owned by and licensed from Beads of Courage, Inc. dba Center for Arts in Nursing. For more information on BEADS OF COURAGE®, visit: www.beadsofcourage.org
Please join us today
Are you able to help families like Ayden's by making a donation today?
With your help, we can continue supporting the loved ones of children like Ayden who sadly don't survive, helping them find a way to go on living without them while cherishing their memory.