Liem's personal development grant story
Child Cancer Foundation provides Personal Development Grants to children with cancer as well as their siblings and parents.
Liem Walters was seven years old when he was diagnosed with acute lymphoblastic leukaemia in June 2020. 
He finished his treatment in August 2022 and is doing really well, maintaining his awesome sense of humour throughout the experience! 
We spoke to his dad Brian about their experience of receiving a personal development grant to fund a computer and Mbot robot kit for Liem: 
"During Liem's treatment, he lived on his iPad. All his treatments and appointments were accompanied by his iPad as he was so interested in Minecraft. As parents, you don't want this level of addiction to an iPad, however he would watch this as his port was accessed, during transplants and through all the uncomfortable sessions. 
For the grant, I wanted something that he was not only interested in, but which would also take him away from his iPad and of course be beneficial for his future. 
We took him to a SCRATCHPAD session in Albany, and he enjoyed programming the robots, so programming was an easy choice. I could see the benefits of him applying logic and process to a task and developing his problem-solving skills, so we applied for a computer and Mbot robotic kit. This is an online kids' programming tool which they can use to build a robot and make it dance, move etc.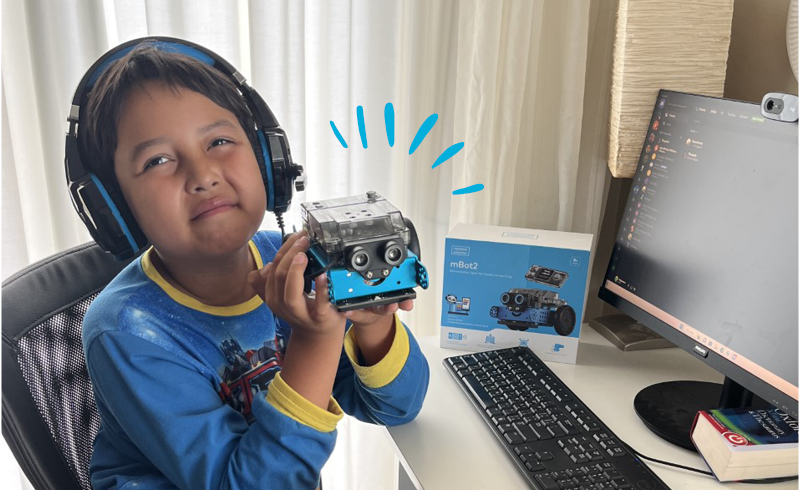 Liem loves to make the robot do simple comments and is fascinated when it works well. Because iPads tend to develop impatience, he gets bored easily and it has affected his concentration. I recognised that the robot was going to be the key to help us teach him to concentrate better. 
It has also been an opportunity for us to spend some productive dad and son time. We often need to sort out glitches in the programming together, which teaches him resilience and perseverance. When I am helping Liem with his robot, we can focus on a fun problem and there is no cancer – we are just a dad and a son spending quality time together. 
Above all, when Liem opened the box and saw a computer as his end-of-treatment gift, he was thrilled. He knew that it was a monumental occasion, and he was so proud of himself. He also uses the computer to play with his cancer buddy, Theo! 
Having the computer makes him feel like he is any normal kid, and he has put the past to the back of his mind." 
Child Cancer Foundation provides personal development grants to children with cancer as well as their siblings and parents. 
A grant can be life-changing for a family and is often an important factor in helping them move forward with their lives and develop new skills.
Help us make a difference.
We can't do this without you.
Child Cancer Foundation provides support to Kiwi kids on their cancer journey. We need your help to provide the vital support to families. Please make a donation today.