Nicole's Story
"We've got to live with it forever. In the back of our mind we are always thinking about Nicole's cancer."
Nicole Pinto is a spirited, energetic nine-year-old who lights up every room she walks into. Watching her carry her little brother Cameron on her back and clamber up the tree in her family's garden, you would never suspect that this little pocket of sunshine finished six months of chemotherapy for cancer just over a year ago.
According to her mum Fiona, it was that zest for life that helped Nicole get through. "My friend once told me that there's only one word that comes to mind about Nicole: ballsy," she says. "She just keeps on going and doesn't look back."
In June 2019, Nicole was diagnosed with rhabdomyosarcoma, a rare form of cancer that develops in the body's soft tissue. Surprisingly, the only thing that alerted Nicole's parents to something being wrong was when one of her eyes seemed to be slightly smaller than the other. Fiona initially just took Nicole to the optometrist for peace of mind, but after that her eye only seemed to get worse.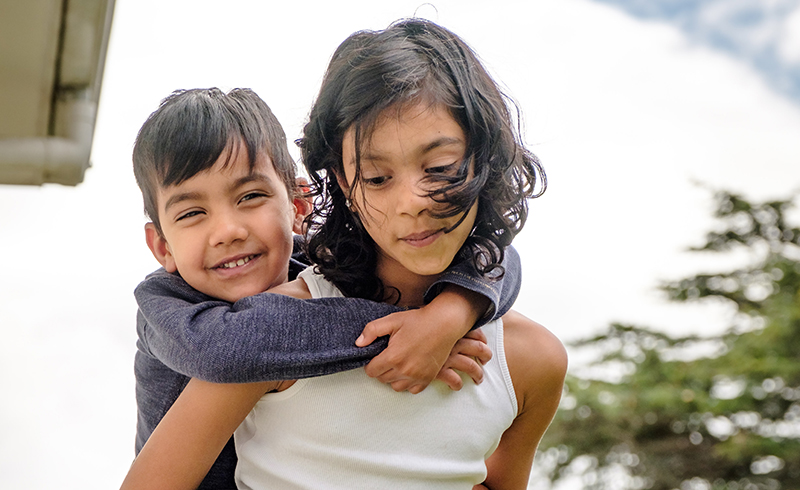 Feeling more and more unsettled, Fiona decided to take Nicole to the eye clinic where they were able to get a CT scan and an MRI. This is when a mass was discovered in the socket of Nicole's right eye, which Fiona immediately knew was a bad sign. "I read the MRI and saw there was the possibility of it being rhabdomyosarcoma, but they had to biopsy it," she says. "They did the surgery the following week and from there they pretty much came out and said we had to wait for the oncologist."
Fiona and her husband Amith's hearts immediately sunk when they heard the word oncologist, as they knew that meant their little girl was about to go through the fight of her life.
"We really didn't want to listen to that word, cancer," says Amith. "We tried to deny everything possible."
To help the shocked family cope with the sudden diagnosis, Child Cancer Foundation connected with Fiona and Amith just a few days later. Their Family Support Coordinator Steph focused on helping them make sense of all of the information they were being given and come to terms with how Nicole's cancer was going to impact on their day-to-day lives.
Nicole's treatment involved six months of weekly chemotherapy and 25 fractions of radiation. "Amith and I both reduced our work hours while Nicole was on treatment as she was in and out of Starship every week," says Fiona. "I had a whole roster going because we needed to get Nicole to treatment but someone also had to look after Cameron.
"We made it known to both of our workplaces that Nicole came first and everything else would have to wait. We had to make a few sacrifices. Steph really helped us by validating how we felt and acknowledging that it was really hard for us."
Heartbreakingly, this wasn't the first time Fiona and Amith had experienced true hardship as parents. In between having Nicole and Cameron, the couple tragically had a stillborn baby, Zara, at 36 weeks. "When we lost Zara it came completely out of the blue," says Fiona. "All the scans went well and then she just stopped moving. Three years later, Nicole was diagnosed. It made us feel like we were really unlucky."
Fiona and Amith both believe that going through so much adversity together has brought their family closer together. "Resilience is now in our blood," says Fiona. "I think with Nicole we knew that at least we could do something about it. It was a completely different situation because we had so much external support."
Just as Nicole's positivity has helped her family cope throughout her cancer, it was her high energy as a little girl that gave her parents something to focus on through their grief after losing Zara. "Nicole is always so busy so we just had to keep up with her," Fiona explains. Nicole still thinks about Zara, and Fiona and Amith are committed to helping both Nicole and Cameron keep the memory of their cherished sister alive.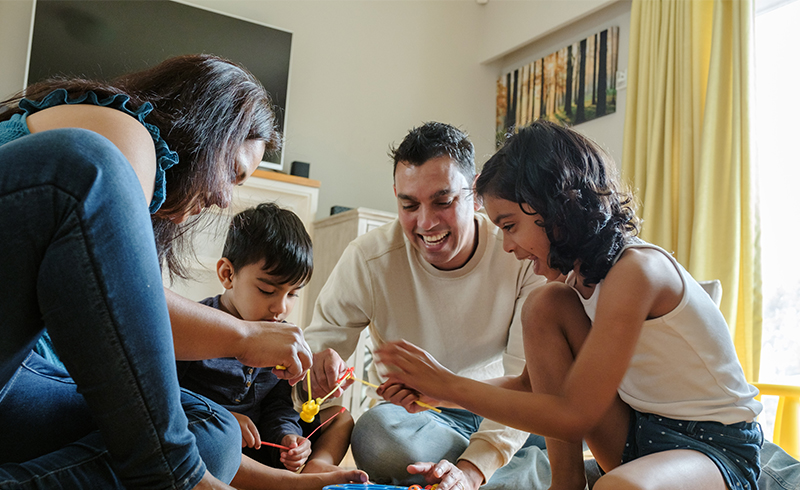 Accordingly, a lot of Steph's support for the Pinto family after Nicole's diagnosis was focused on giving them opportunities to make memories together. She organised passes for them to go to the Auckland Zoo and Rainbow's End as a family, as well as tickets to watch a cricket game in a corporate box. This helped them capture moments of joy together during what was an incredibly stressful time.
But the most special experience for the family was when Steph helped them organise a trip to Queenstown in 2020. "We had booked a trip to Rarotonga in February last year but never got to go because of Covid-19," says Fiona. "Steph knew we had to postpone it so she looked into booking and covering the cost of accommodation in Queenstown – not only for us but also my parents, because Steph realised that they were our support network."
Fiona says that everything they have been through as a family has taught them to treasure the time they have together.
"I just feel like life is short and you never know when it's going to change," she says. "Now when I'm planning a trip I'm already thinking of what we're going to do next. You never know how long we are going to be here on this planet."
Nicole's treatment finished at the end of 2019, and she is happily now considered to be in remission. She says that the best memory from the experience is "walking out the door being cancer free," and is looking forward to one day being able to show her own kids the Beads of Courage® she earned throughout her treatment.
However, the months of stress, fear and paranoia that Fiona and Amith experienced during Nicole's treatment still lingers. "We've got to live with it forever," says Amith. "It's not over yet. In the back of our mind we are always thinking about Nicole's cancer."