Riley's story
An Auckland family gets a diagnosis they weren't expecting
Riley endured 15 months of debilitating health problems before his family received a diagnosis they'd never imagined. A happy, outgoing boy by nature, Riley started showing signs that all was not well in April 2017. Suffering from vomiting, headaches and nausea, the 9-year old was sent home from school on a fairly regular basis. His concerned parents, Louise and Jamie, took him to a doctor to be checked out but nothing of concern was found and he was sent home.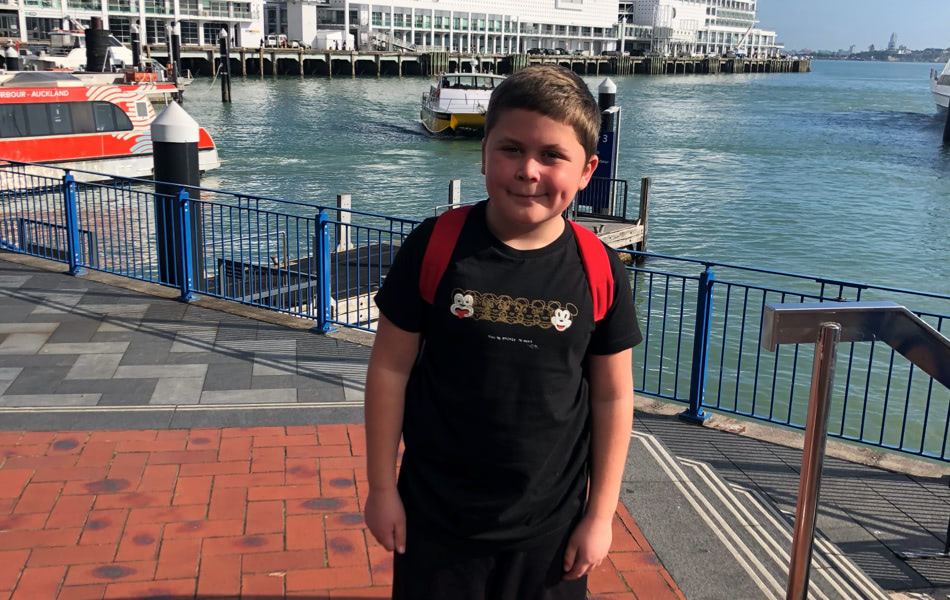 Riley's health deteriorated. He became lethargic, irritable to noise and couldn't keep up with his busy sports schedule. His headaches, nausea and vomiting continued and his distraught parents took him back to the doctor on numerous occasions, but blood tests revealed no clues to Riley's health problems.
This distressing scenario played out over many months as Riley's health fluctuated and the usually energetic young boy struggled to get through each day. On several occasions his parents rushed him to Middlemore Hospital's A&E in the middle of the night with splitting headaches, but his vitals were always fine and he was sent home.
In a search for the unexplained source of Riley's problems, he was referred to a paediatrician and then on to mental wellbeing specialists for anxiety counselling. He saw alternative health professionals but continued to suffer from headaches and vomiting.
Riley bravely soldiered on, but his mum, Louise, was deeply concerned and desperate to find the cause of Riley's poor health:
"I believed him and that it wasn't anxiety so I tried other ways to figure out what was wrong. It was incredibly frustrating and worrying not knowing what was wrong. My poor son was enduring real pain, discomfort and stress but was being told he was fine. He started to feel like no one was really believing or listening to what he was saying so he endured it as best he could."
In June 2018, Riley was once again nauseated and vomiting. His parents rushed their exhausted son to Middlemore Hospital and insisted that scans be taken. Three days later Riley had his first MRI which revealed a large tumour in his head. The tumour was near his pituitary gland, creating pressure on his brain and eye nerves, and blocking the flow of brain fluid.
Stunned by the diagnosis, Riley and his parents were sent to Starship Hospital by ambulance where Riley was placed in the High Dependency Unit and prepped for major surgery to release the fluid build-up on his brain. The tumour had been detected just in time. Riley was on the brink of having a stroke or seizure.
"It felt like the world dropped out from under us," recalls Riley's dad, Jamie. "We were in a totally foreign situation and incredibly worried about Riley but we had to try not to show it for his sake."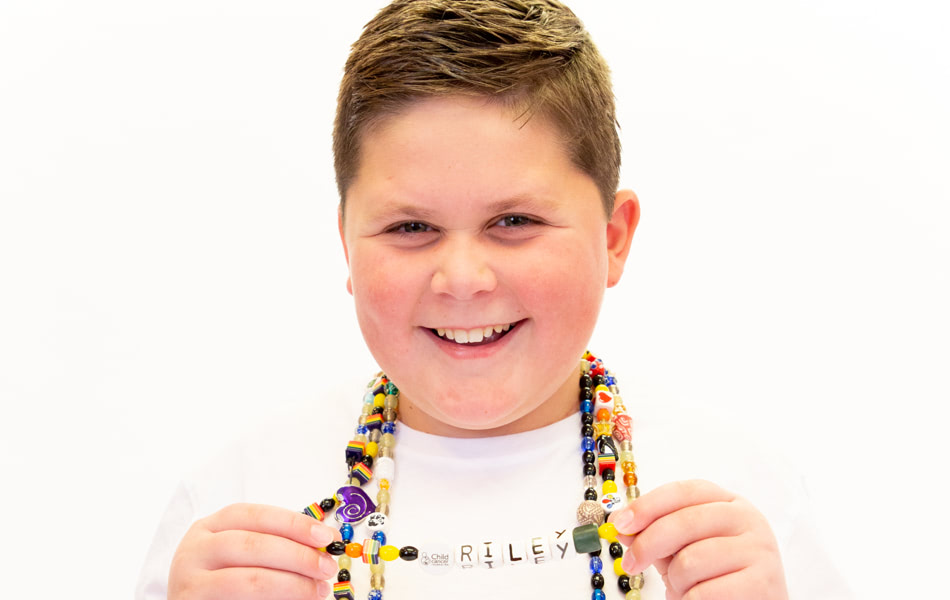 After the surgery, Riley immediately felt better, but two days later he had to undergo more major surgery to remove as much of the tumour as possible. The surgery was successful and to the relief of his parents, the growth was found to be a benign craniopharyngioma tumour. But Riley wasn't out of the woods and had to endure yet another procedure to insert a shunt to regulate the flow of fluid around his brain.
Louise recalls that time vividly:
"I've never seen my son so scared for his life as when he went into those operating rooms three times in a row over ten days. We all had fears that he may not come back to us with each operation, as there were serious risks involved with each procedure."
Riley spent the next month in Starship's Neuroservices Ward recuperating and experiencing a rollercoaster of emotions. More scans and blood tests were taken and he required large doses of medication. There were good days when he could deal with the daily challenges and there were bad days when he would break down and want to escape it all.
After being discharged home, Riley spent a month recovering before beginning a 30-day course of radiation therapy, which entailed travelling to hospital for treatment every week day for six weeks. He found the radiation treatment on his head traumatic, but a playlist of his favourite music helped him stay calm and get through it.
Prior to starting his radiation treatment, Riley and the family met their Family Support Coordinator from Child Cancer Foundation. She told the family what to expect in the weeks and months ahead and was always very supportive.
"She was wonderful to just chat with," says Louise.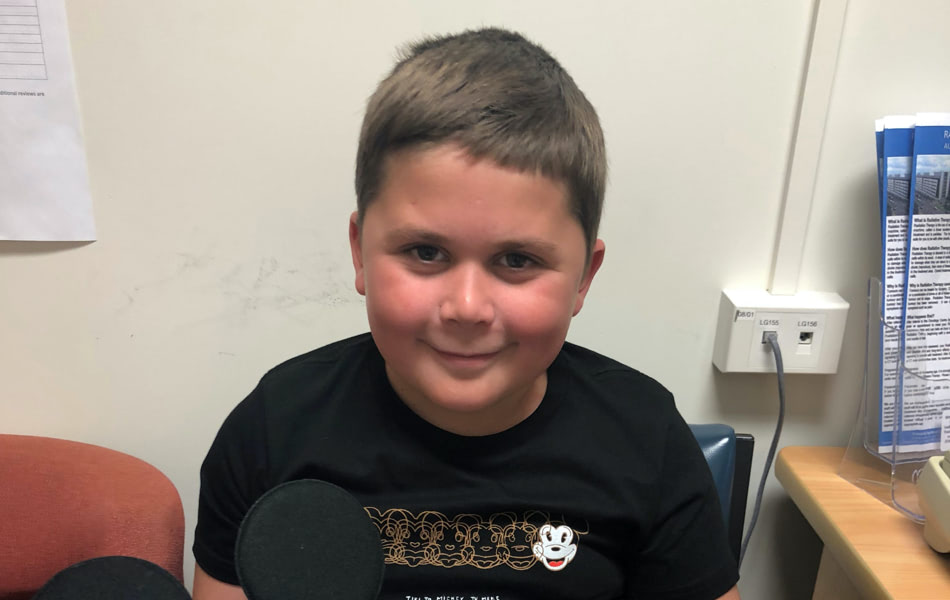 As Riley's treatment and recovery progressed, their Family Support Coordinator arranged for some much appreciated petrol vouchers and holiday accommodation. She also invited the family to events arranged by the Foundation, such as movies, a speedway night and the circus, to help them enjoy some fun family time together.
Riley and his family were also well supported by their Beachlands community. Within a couple of days of Riley's diagnosis, a friend set up a dinner and baking roster so the family didn't have to worry about preparing meals each night. Riley also received personal video messages from television celebrities, Jono and Ben, and musician Stan Walker. He even got to meet the All Blacks at Eden Park.
By the end of 2018, Riley had finished his radiation treatment, but unfortunately his pituitary gland and eye nerves were damaged and his thyroid had been affected. He suffered vision loss in both eyes and requires medication to supplement the hormones his pituitary gland no longer adequately produces. Riley will have to contend with these and other health issues for the rest of his life.
However, like most children, Riley is incredibly resilient and has started going back to school part time. He enjoys music and recently received a grant from the Foundation to purchase a guitar and take music lessons.
"Some days we mourn the loss of the lifestyle and the child we had but mostly we are just so grateful that we have been given a second chance with Riley. We've been put on a different path and now have to navigate it as best we can" – Louise, Riley's mum
Please join us today
Are you able to help families like Riley's by making a donation?
More than ever, we need your help to continue providing children and families with the specific support they need, for as long as they need it.