Thu-Lena Tran: Senior Whānau Connect Lead
Thu-Lena Tran is our Senior Whānau Connect Lead, a role which is focused on supporting our Group committees throughout Aotearoa.
In July 2021, we made an exciting addition to our Family Support team in a newly created position: Senior Whānau Connect Lead. We are delighted to have appointed Thu-Lena Tran in this role, who many families in the Hawke's Bay region may already know through her work with the local Whānau Connect Group.
Thu-Lena's connection with Child Cancer Foundation began back in December 2013 when her one-year-old son Caine was diagnosed with a spinal cord tumour. He sadly passed away just 18 days after his diagnosis. "Our journey was very short but the support we received was incredible," says Thu-Lena. "Since then I've always wanted to do my part to support other families in any way I can."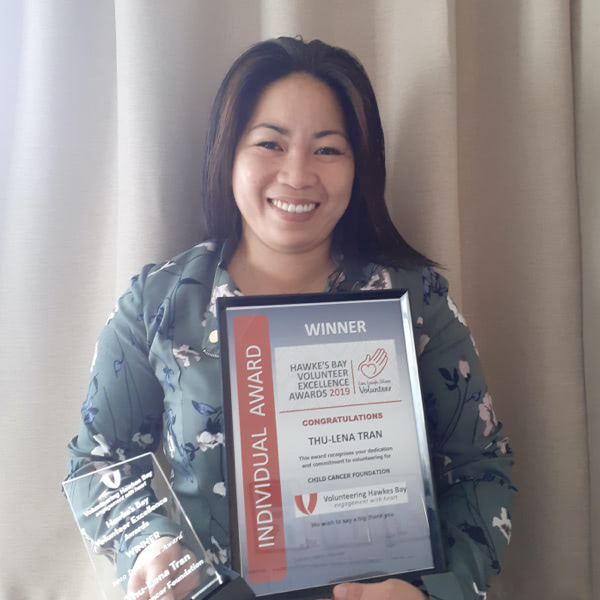 Thu-Lena has been a part of the Hawke's Bay Group for nearly seven years, working with a dedicated team to provide peer-to-peer support for families in the area. Her professional background has been in nursing and pastoral care/student support, predominantly in Māori and Pasifika communities. She has most recently held a role in Family Support for another charitable organisation and also runs a catering business on the side.
By taking on the role as Senior Whānau Connect Lead, Thu-Lena will now play an important role in supporting Group committees throughout Aotearoa and ensuring their work goes hand in hand with that of our Family Support Coordinators.
"I am so excited to have joined the team at Child Cancer Foundation in this capacity because I am so passionate about the role and importance that our Whānau Connect Groups bring to the table," says Thu-Lena. "The priority will be unpacking the function and responsibilities of what a Whānau Connect Group is, what it looks like and how we ensure that we are adding value."
With Thu-Lena's leadership, passion and dedication, we are looking forward to supporting all Whānau Connect Groups to continue to do the important work of providing opportunities for social connections between families in each region.
Quick-fire questions with Thu-Lena

What is your favourite place in NZ and why?

Wainui Beach in the summer – I love Gisborne and I love the sea salt smell. In the winter it's Lake Tarawera, Rotorua, because I also love the smell of the damp bush.

What is your favourite weekend activity?

Something I don't do enough but would be a dream weekend would be reading a book from cover to cover.

What is your go-to self-care strategy?

Hot bubble baths can make almost everything better.

What special memory with Child Cancer Foundation stands out to you?

A stand out moment was attending the Bereaved Families Camp in 2014 – meeting wonderful families and hearing some incredible journeys of inspiring heroes. Some things stay with you forever.

Do you have a favourite inspirational quote?

"Life is not measured by the number of breaths we take but by the number of moments that take our breath away."
Our Whānau Connect Groups provide peer-to-peer support to families living through childhood cancer in their region.
Please donate today to ensure that more families can form important social connections with people going through a similar experience to them.